Hyundai Department Store - Ulsan Branch (현대백화점 (울산점))
Hyundai Department S...

Address
261, Samsan-ro, Nam-gu, Ulsan
울산광역시 남구 삼산로 261 (삼산동)
Type / Products
Department Stores / Fashion miscellaneous goods, clothes, sports wear, home appliances, foods, etc.
Inquiries
• 1330 Travel Hotline: +82-2-1330
(Korean, English, Japanese, Chinese)
• For more info: +82-52-228-2233
Homepage
ehyundai.com
(Korean, English, Chinese, Japanese)

VisitKorea does not guarantee the quality of products or services introduced on its site and is not responsible for any direct or indirect losses resulting from use of said products or services.
Introduction
As the first department store to ever open in the Ulsan region, the Hyundai Department Store Ulsan Branch is a leader of the shopping cultures in the Ulsan area. It provides a wide selection of goods, friendly customer service, and beautifully designed stores in Ulsan Metropolitan City Nam-gu. This enormous building has seven basement floors and 13 floors above ground, and is symbolized as the landmark shopping attraction of Ulsan.
Hours of operation are from 10:30am to 8:00pm daily. Stores are closed one Monday a month. Please refer to the official homepage for exact closing dates.
Structure Size
B7-13F
Operating Hours
10:30 ~ 20:00
Dutyfree
Available
Opening Date
March 20, 1998
Map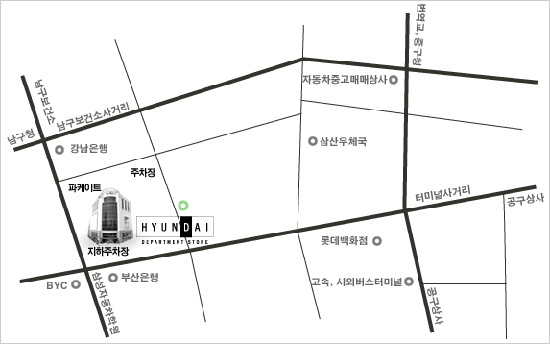 Store Information
13F: Cultural center, members service center
12F: Home appliances, restaurants
11F: Household items
10F: Children's wear, Topaz Hall
9F: Golf wear, sports wear
8F: Men's wear
7F: Young casual
6F: Young casual
5F: Young casual
4F: Women's wear, lingerie, fur
3F: Women's casual
2F: Imported clothes, bags
1F: Luxury brand items, cosmetics, fashion miscellaneous goods
B1: Food
B2-B7: Parking lot
Convenient Facilities
Customer Service Center, electronics A/S center, children's rest area, Kids park, Artrium Hall, gallery
Parking Facilities
1,119 parking spaces
Restrooms
Available
Credit Cards
Accepted
Baby Stroller Rental Services
Available
Pets
Not permitted
Certification Period
2014.1.1~2015.12.31
Directions
From Ulsan Express Bus Terminal, go straight 200m towards Lotte Department Store.
Turn left at the 4-way Intersection.
Hyundai Department Store is about 350m straight ahead on the right.

Local Buses bound for Hyundai Department Store - Ulsan Branch
108, 126, 127, 133, 307, 317, 327, 337, 401, 417, 432, 704, 708, 722, 732, 807, 1402
Telephone
+82-52-228-2233