The Place Dining (더플레이스 다이닝)
The Place Dining (더플...

Notices
* Located on the 2th floor, N Seoul Tower Plaza
Address
105, Namsangongwon-gil, Yongsan-gu, Seoul
서울특별시 용산구 남산공원길 105 (용산동2가)
Type / Specialty Menu
Western Food/Steak, Pasta, Salad
Inquiries
• 1330 Travel Hotline: +82-2-1330
(Korean, English, Japanese, Chinese)
• For more info: +82-2-3455-9220~1
Homepage
www.nseoultower.co.kr (Korean, English)

VisitKorea does not guarantee the quality of products or services introduced on its site and is not responsible for any direct or indirect losses resulting from use of said products or services.
Introduction
'The Place Dining' is a casual restaurant situated in the N Seoul Tower that welcomes all guests with the utmost friendliness, and provides a comfortable atmosphere. The beautiful garden roof terrace and sky promenade offer a spectacular view overlooking the N Seoul Tower area. The pasta and pizza are made to order, serving the genuine tastes of Italy. 'The Place Dining' only uses the finest ingredients for all of its dishes, including healthy salads and soups.
Telephone
+82-2-3455-9220~1
Closed
Open 365 Days a Year
Operating Hours
11:00 ~ 23:00
Map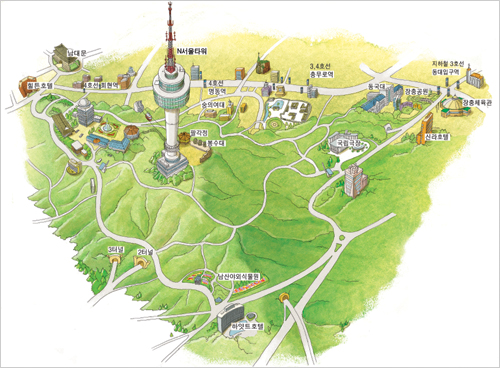 Menu
Some menu items may differ slightly in price and are subject to change without notice.

* Appetizers
Seafood Sampler 14,000 won
Buffalo Chicken Wings 11,000 won
Smoked Salmon Carpaccio 12,000 won
Fried Mushroom Tuna Rolls 11,000 won
* Soups
Mushroom Cream Soup 5,500 won
Seasonal Soup 5,000 won
* Salads
Feta Cheese Salmon Salad 11,000 won
Caprese Salad 12,000 won
Assorted Mushroom Salad 12,000 won
Orange Chicken Salad 11,000 won
* Steaks
SweeTree Sirloin Steak 23,000 won
SweeTree Ribeye Steak 22,000 won
Steak Tagliata 24,000 won
Italian Pork Ribs 28,000 won
Steak Iola 20,000 won
* Pastas
Grilled Salmon Cream Pasta 15,000 won
Chicken Alfredo Pasta 14,000 won
Lobster Pasta 18,000 won
Beef Tenderloin Pasta 16,000 won
Shrimp Scampi Pasta 16,000 won
Mozzarella Oven Pasta 13,000 won
Seafood Pasta 13,000 won
Maximum Seating Capacity
106
Parking Facility
Use one of the nearby N Seoul Tower Parking Lots (National Theater, Namsan Library, Namsan Cable Car Parking Lots, and more)
Reservations
Tel: +82-2-3455-9220~1
Intercity Transportation
* N Seoul Tower Transportation Services
1) Namsan yellow bus #2
2) High-class taxi for foreigners
3) Group tourist bus
4) Seoul City Tour Bus
5) Vans may park in the lot near the yellow buses/ then walk
* Yellow Bus (Namsan #02)
subway station - Chungmuro Station (line 3,4) exit #2 (in front of the National Theater), Dondaemun (line 3) exit #6, walk 1~2min towards the Shilla Hotel, then get on the bus
▶ Hours of Operation - 8AM~12AM
▶ Bus Fares - 550 won, T-Money Card 500 won
* Cable Car
1) Myeong-dong Station (line 4) exit #3, walk from the Pacific Hotel to the cable cars (10min)
2) 10:00AM ~ 10:30PM
* Seoul City Tour Bus
1) Gwanghwamun Donghwa Duty Free Shop (Subway line 5 Gwanghwamun Station exit #6)
2) Inquiries - Gwanghwamun Ticket Box (Gwanghwamun Tourist Information Center 02-777-6090)
| | |
| --- | --- |
| | Shopping |
Region : Jung-gu Seoul
Type : Shops/Malls
Gana Glasses is a popular shop among Japanese tourists and is known for having high-quality eyeglass...
Region : Jung-gu Seoul
Type : Shops/Malls
'HIT500PLAZA & Dreaming Young Entrepreneurs' Store' is a store directly operated by the Korean gove...
Region : Jung-gu Seoul
Type : Shops/Malls
Migliore Shopping Mall, located in Myeong-dong, provides customers with easy access to its stores, a...
Region : Jung-gu Seoul
Type : Shops/Malls
Opened in March 2009, the Nature Republic is a cosmetic brand that focuses on promoting a healthy li...
Region : Jung-gu Seoul
Type : Specialty Shops
Known as a traditional snack enjoyed by royal families, the delicious ggultare consisits of 16,000 s...