ALSABA (알사바)
ALSABA (알사바)

Address
168-6, Noksapyeong-daero, Yongsan-gu, Seoul
서울특별시 용산구 녹사평대로 168-6 (이태원동)
Type / Specialty Menu
Asian Food/

Islamic, Pakistani Cusine 

Inquiries
• 1330 Travel Hotline: +82-2-1330
(Korean, English, Japanese, Chinese)
• For more info: +82-2-792-1488 (Korean)
Homepage
www.alsaba.co.kr (Korean only)

VisitKorea does not guarantee the quality of products or services introduced on its site and is not responsible for any direct or indirect losses resulting from use of said products or services.
Introduction
Alsaba, the Pakistani word which means "morning sunlight," is owned by Mr. Rana, who along with three other chefs is Pakistani. The restaurant's interior design and tableware are simple yet luxurious, making it the perfect spot for gatherings and dates. The restaurant specializes in lamb dishes, curry, and chicken dishes. The best lamb dishes are billed as Mutton Champ, a lamb steak seasoned with spices and grilled, and Mutton Kahari, which is lamb sautéed with tomatoes, peppers, onions and ginger. If you are not used to hot, spicy foods or if you are vegetarian, try the Aloo Palik, a curry dish with spinach and potatoes. The bread that is commonly served is nan, but you can also try the roti, which is thinner than nan, or paratha, which is flakier than the roti because of the layers of butter. A 10% VAT will be added. Menus are available in both Korean and English.
Telephone
+82-2-792-1488
Fax
+82-2-794-2843
Closed
N/A (Open All year around)
Operating Hours
11:30 ~ 23:00
Map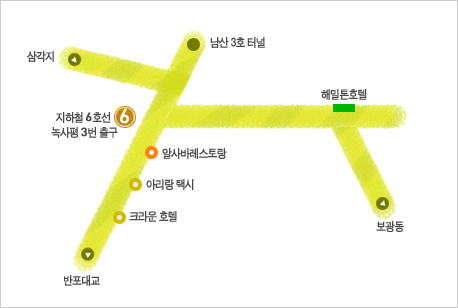 Menu
Some menu items may differ slightly in price and are subject to change without notice.

Aloo Palik 12,000 won, Mutton Champ 40,000 won, Alsaba Ran 60,000 won, (for 2 persons), Mutton Karahi 49,000 won, Golab Jaman 4,000 won, Alsaba special tea 6,000 won
Lunch menu (11:30 ~ 15:00)
→ Detailed menu   


Additional Taxes
A 10% VAT will be added. 
Maximum Seating Capacity
50 seats
Parking Facility
Arirang Taxi Parking lot Available
Credit Cards
Accepted
Reservations
Tel: +82-2-792-1488 (Reservation must be made at least one day in advance.)
Directions
Noksapyeong Station (Seoul Subway Line 6), Exit 3.
Walk ahead for about 40 meters and cross the road at the crosswalk.
Walk along the road on the right until you reach the Philippines Embassy and Alsaba is next to the embassy.