Seoul National Cemetery Event with Weeping Cherry Blossoms (수양벚꽃과 함께하는 열린 현충원 행사)
Seoul National Cemet...

Period
04.11.2015 ~ 04.17.2015
Address
210, Hyeonchung-ro, Dongjak-gu, Seoul
서울특별시 동작구 현충로 210 (동작동)
Location
Seoul National Cemetery in Dongjak-gu, Seoul
Telephone
• 1330 Travel Hotline: +82-2-1330 (Korean, English, Japanese, Chinese)
• For more info: +82-2-826-6251

VisitKorea does not guarantee the quality of products or services introduced on its site and is not responsible for any direct or indirect losses resulting from use of said products or services.
Sponsors / Management
Seoul National Cemetery /
Introduction
Seoul National Cemetery hosts an event with weeping cherry blossoms that symbolize the protection of the nation. The color of its cherry blossoms of the cemetery are paticularly pink. Also, the view of the the weeping cherry blossoms with their branches hanging down makes people think about paying respect to the souls of all the patriots and to solemn one's mind.

The festival is held in every April with varied sightseeing activities to enjoy weeping cherry blossoms fully.
Programs
- Ministry of National Defense special military band & honor guard ceremony
- National Cemetery honor guard shift changing ceremony
- Small music concert by Ministry of National Defense
- Weeping Cherry Blossoms photo contest
- Stamp tour of patriot's path
- Exhibition of photo and art pieces
- Hands-on programs (arrow throwing, face-painting, nail art, caricature, photo printing service)
- Health experience Hanmadang of Dongjak-gu Office (Dongjak Health Center)
Performance Times
09:00-21:00
Admission/Participation Fees
Free
Age Limit
Open to visitors of all ages.
Transportation
[Subway]
Dongjak Station (Seoul Subway Line 9), Exit 2 or 4.
Event Map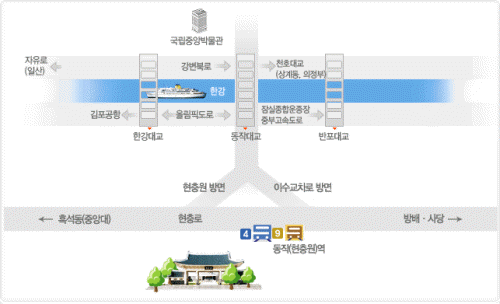 Detailed Info on the Location
http://www.snmb.mil.kr (Korean, English)