Korea Traditional Food Culture Experience Center (Jeonggangwon) (한국전통음식문화체험관(정강원))
Korea Traditional Fo...

Address
2010-13, Geumdanggyegok-ro, Yongpyeong-myeon, Pyeongchang-gun, Gangwon-do
강원도 평창군 용평면 금당계곡로 2010-13 (용평면)
Type
Traditional Cultural Activities
Inquiries
• 1330 Travel Hotline: +82-2-1330 (Korean, English, Japanese, Chinese)
• For more info: +82-33-333-1011
Homepage
www.jeonggangwon.com
(Korean, English, Japanese, Chinese)

VisitKorea does not guarantee the quality of products or services introduced on its site and is not responsible for any direct or indirect losses resulting from use of said products or services.
Introduction
The Traditional Korean Food Culture Experience Center was established in order to preserve, research, distribute and promote the values and merits of traditional Korean food culture in the world.
There are various hands-on facilities for traditional food culture such as an exhibition hall, cooking room, and a fermentation room, covering an area of 10,000 pyeong (33057.85㎡) in Baegokpo-ri, Yongpyeong-myeon, Pyeongchang-gun, Gangwon-do. Particularly, it is the a great place for anyone who wants to learn more and take part in various aspects of traditional Korean food culture.
Telephone
+82-33-333-1011
Fax
+82-33-333-1014
Closed
Seollal (Lunar New Year's Day) & Chuseok (Korean Thanksgiving Day) holidays
Map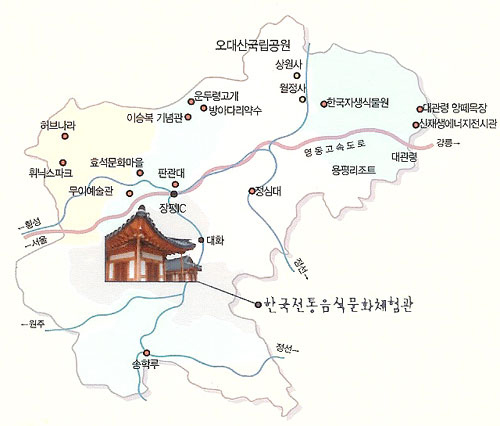 Film Locations
Fliming Stie of 'Sikgaek'
Activity Information
[Making traditional Korean cuisine]
- Contents: Bibimbap, gochu-jang, kimchi, mackerel ssamgjang, other traditional dishes
- 10 or more people
- Eligibility: General groups, foreigners, youths and families
Age Limit for Activities
Open to visitors ages 8 and up
Maximum Occupancy
About 300 people
Parking Facilities
Available (more than 10 large bus)
Admission Fees
Adults 3,000 won / Youths and seniors 2,000 won

※ Includes museum and animal farm
※ If visitors have meals there, the admission fee is not charged. (One ticket per person)
Available Facilities
[Food Museum]
[Hanbok Experience Hall]
[Food Culture]
Stone ice storage, country house, platform for crocks of sauces and condiments, cooking practice room
[Outdoor landscape]
[Training] Seminar room
[Entertainment & Convenience]
Grass field, spa, table tennis table, pool table, singing room, mini putting site, a camp fire
Restrooms
Available
Parking Fees
Free
Korean Info. Service
Group
Interpretation Services Offered
Prior inquiry
Korean Info. Service
Prior inquiry
Reservation Info. for Natives
Tel: +82-33-333-1011
Reservation Info. for Foreigners
Tel: +82-33-333-1011
Pets
Not permitted inside
Directions
[Bus]
From Sangbong Intercity Bus Terminal or Dong Seoul Bus Terminal, take an express bus bound for Jangpyeong Bus Terminal. Take a taxi to the venue from the bus terminal.
(About 5.5km away / The taxi fare will cost around 6,000 won / 10 min ride)
| | |
| --- | --- |
| | Tourist Sites |
Region : Pyeongchang-gun Gangwon-do
Theme : Rafting
One of the most well known sites to rafting maniacs is the Geumdang Valley of Pyeongchanggang River....
Region : Pyeongchang-gun Gangwon-do
Theme : Waterfalls/ Valleys/ Mineral Springs
Geumdang Valley (금당계곡), located upstream of the Pyeongchanggang River, is a gorge between three diff...
Region : Pyeongchang-gun Gangwon-do
Theme : Old Houses/ Birth houses/Folk Villages
The Lee Hyo-Seok Culture Village is the place where the author Lee Hyo-Seok (penname "Gasan") was bo...
Region : Pyeongchang-gun Gangwon-do
Theme : Others
The Lee Hyo-seok Culture Village is a place where author Lee Hyo-seok (penname "Gasan") was born and...
Region : Pyeongchang-gun Gangwon-do
Theme : Exhibition & Memorial Halls
Discover the life and literature of famous Korean writer Gasan Lee Hyo-Seok at the Lee Hyo-Seok Memo...