Kyongju Folk Craft Village (경주민속공예촌)
Kyongju Folk Craft V...

Address
201-18, Hadong, Gyeongju-si, Gyeongsangbuk-do
경북 경주시 하동 201-18
Type
Folk Villages
Inquiries
• 1330 Travel Hotline: +82-2-1330 (Korean, English, Japanese, Chinese)
• For more info: +82-54-746-0618
Homepage
www.kyongju-fcv.com (Korean only)

VisitKorea does not guarantee the quality of products or services introduced on its site and is not responsible for any direct or indirect losses resulting from use of said products or services.
Introduction
On the tourist trail near the foot of Tohamsan Mountain between Bulguksa Temple and Bomun Lake Resort are as many as 45 traditional tile-roofed and thatched houses. The folk craft village, which stands on a lot measuring 66,116m² (20,000 pyeong), is home to craftsmen and artisans who have successfully preserved the spirit and craftsmanship of their ancestors. Visitors may receive a free tour of 18 different galleries and workshops including metal, ceramics, wood crafts, jewelry, stone crafts, embroidery and earthware crafts. Artwork and crafts created by local artists are for sale at reasonable prices.
Closed
N/A (Open all year round)
Map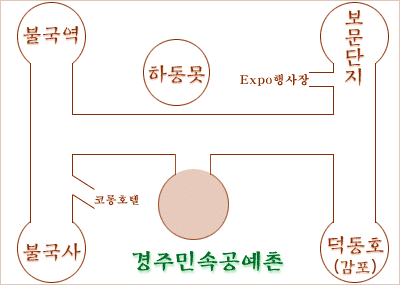 Operating Hours
December & January 09:00-17:00
February & November 09:00-17:30
March & October 09:00-18:00
April-September 09:00-18:30
Admission Fees
Free
※ There is an admission fee for Silla Arts and Science Museum
Restrooms
Available
Facilities for the Handicapped
Designated restroom, parking lot

※ The main entrance has stairs, which may be an inconvenience for some visitors, but, most other footpaths have ramps for greater accessibility.
Directions
From Seoul Express Bus Terminal, take an express bus bound for Gyeongju Express Bus Terminal.
(First bus 6:10, last bus 23: 55 / travel time: 4 hrs)
Cross the road and take Bus 10, 11 or 700 at Gyeongju Express Bus Terminal Bus Stop and get off at Kyongju Folk Craft Village Bus Stop.
From Kyongju Folk Craft Village, take a left Hadonggongyechon-gil for 265m at the three-way intersection.
The site will be located on the left.
Related Tour Packages
Destination: Gyeongsangnam-do, Gyeongsangbuk-do
Duration: 3Day(s) 2Night(s)
Destination: Gyeongsangbuk-do
Duration: 2Day(s) 1Night(s)
| | |
| --- | --- |
| | Tourist Sites |
Region : Gyeongju-si Gyeongsangbuk-do
Theme : Exhibition & Memorial Halls
Silla Arts and Science Museum is located in Gyeongju Folk Craft Village, and displays miniature mode...
Region : Gyeongju-si Gyeongsangbuk-do
Theme : Temples/ Religious Sites
Bulguksa Temple is the representative relic of Gyeongju and was designated as a World Cultural Asset...
Region : Gyeongju-si Gyeongsangbuk-do
Theme : Amusement Parks/ Tourist Resorts
Gyeongju was the capital city of the ancient kingdom of Silla. The city is often referred to as a "m...
Region : Gyeongju-si Gyeongsangbuk-do
Theme : Temples/ Religious Sites
Seokguram, located on Tohamsan Mountain, is the representative stone temple of Korea. The official n...
Region : Gyeongju-si Gyeongsangbuk-do
Theme : Monuments/ Historical Sites
The tomb of the King Wonseong, 38th king of the Silla Kingdom (785-798) in Oedong-eup, Wolseong-gun,...