Hansol Oak Valley (한솔오크밸리)
한솔오크밸리_전경

Address
1016, Wolsong-ri, Jijeong-myeon, Wonju-si, Gangwon-do
강원 원주시 지정면 월송리 1016번지
Type/Class
Condominium/-----
Inquiries
• 1330 Travel Hotline: +82-2-1330 (Korean, English, Japanese, Chinese)
• For more info: +82-33-730-3501~5 (golf village),
+82-33-769-7501~4 (ski village)
Homepage
www.oakvalley.co.kr
(Korean, English, Chinese)

VisitKorea does not guarantee the quality of products or services introduced on its site and is not responsible for any direct or indirect losses resulting from use of said products or services.
Introduction
Hansol Oak Valley is a family resort operated by Hansol Development Co., Ltd., a subsidiary of Hansol Group.
The resort has a beautiful facility with golf courses, thrilling ski slopes, leisure and convenience amenities, and European-style condominiums. The resort's golf courses were designed to work with the naural environment and the course-management is eco-friendly. The resort offers both a members only and public course and a variety of events are ongoing throughout the year. Other amenities include a banquet hall, wedding hall, swimming pool, tennis court and mountain biking. Families and friends alike can join this resort all year round!
Telephone
+82-33-730-3501~5 (golf village) / +82-33-769-7501~4 (ski village)
Fax
+82-33-730-3507
E-Mail
oakvalley@hansol.co.kr
Map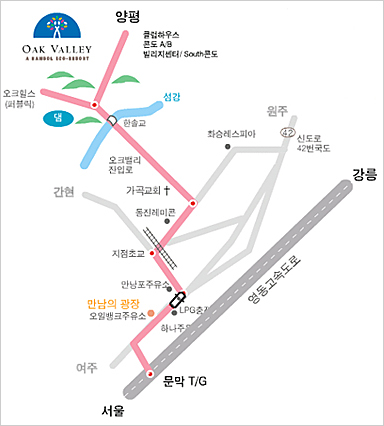 Guestroom Information
Golf village / Ski village
Number of Guestrooms
1105 rooms
Room Amenities (Colored backgrounds designate availability)
| | | | | | | | | | |
| --- | --- | --- | --- | --- | --- | --- | --- | --- | --- |
| | | | | | | | | | |
| TV | Fridge | A/C | Laundry Service | Dryer | Jacuzzi / hot tub | Internet | Cable | Personal Safe | Kitchen Facilities |
Guestroom Kitchen
Available
Check-In Time
14:00 (peak season 15:00)
Check-Out Time
12:00 (peak season 11:00)
Room Rates
₩ 330,000~


* The room rate is the lowest price for this accommodation. Rates may vary according to season, room type and whether or not guests are entitled to discount rates. Please make sure to check the exact rate in advance before making your reservations. The room rate listed above is subject to change.
Additional Taxes
Incluced
Service Charges
Included
Peak Season
July-August, December-Februray
※ Subject to change. Please inquire in advance.
Meals
Not available
Subsidiary Facilities
Swimming pool, mountain biking, golf course, ski area, hiking path, sculpture park, tennis court, basketball court, bowling, observatory, ski shop, etc.
Restaurants
Korean restaurant, Chinese restaurant, cafe, food court, mart, BBQ
Parking Facility
Available
Reservations
To reserve a room and/or golf range contact +82-1588-7676
Pickup Services
Available (Reservation required the day before prior to 16:00)
* Inquiry: Cheonho Tour +82-33-763-1005
Newspapers
Not available
Baby Stroller Rental Services
Not available
Pets
Not permitted
Directions
From Seoul Express Bus Terminal, take an express bus bound for Wonju Express Bus Terminal.
(first bus 6:00, last bus 23:00, travel time: 1 hr 30 min)
Exit out from the terminal, walk toward Lotte Mart and take a right at the four-way intersection.
Cross the street and take Bus 57 to Oak Valley Bus Stop.
(46 bus stops, travel time: 1 hr 20 min)
Or you can take a taxi to the venue from the bus terminal.
(Approxi. 23km away / the taxi fare will cost around 21,000 won)

Also, a Shuttle bus to the venue is avilable. Click here (Korean only) to check the schedule for the shuttle bus.
Nearby Tourism Attractions