Yumyeong Hoegwan (유명회관)
Yumyeong Hoegwan (유명...

Address
18, Geumnam-ro 131 Beon-gil,
Buk-gu, Gwangju
광주광역시 북구 금남로131번길 18 (북동)
Type / Specialty Menu
Korean Food/Hanu saengdeungsim,
Galbisal, Kkotdeungsim
Inquiries
• 1330 Travel Hotline: +82-2-1330
(Korean, English, Japanese, Chinese)
• For more info: +82-62-512-5574
(Korean)

VisitKorea does not guarantee the quality of products or services introduced on its site and is not responsible for any direct or indirect losses resulting from use of said products or services.
Introduction
Even before the mad cow disease crisis, Yumyeong Hoegwan has only been serving locally-bred hanu beef. The fresh meat, sirloin, and prime ribs are delicious and they also use rice and kimchi made in Korea. The restaurant has a lot of business and group customers, but it is also good for family occasions, wedding receptions, and other social gatherings.
Telephone
+82-62-512-5574
Closed
National holidays (consult via phone call)
Operating Hours
11:00 - 22:00
Map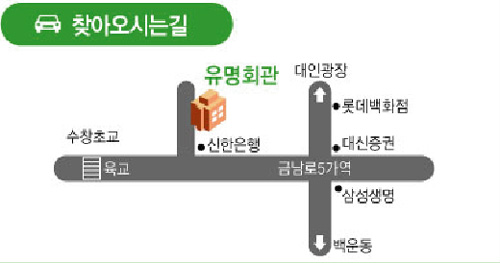 Menu
Some menu items may differ slightly in price and are subject to change without notice.

* Hanu saengdeungsim (Grilled Beef Sirloin)
* Kkotdeungsim (Rib Eye Steak)
* Galbisal (Grilled Beef Ribs)
* Galbi anchangsal (Grilled Beef Skirt Steak)
* Yachae bulgogi (Bulgogi and Vegetables)
* Samgyeopsal (Grilled Pork Loin)
* Yukhoe bibimbap (Bibimbap with Sliced Raw Beef)
Maximum Seating Capacity
370 seats
Parking Facility
100 parking spaces
Restrooms
Available
Credit Cards
Accepted
Reservations
Available (Tel: +82-62-512-5574)
Smoking / Non-Smoking
Non-Smoking
Directions
From Gwangju Bus Terminal (U-Square), take Bus 518, or Cheomdan09(첨단09) bound for Gwangju Il High School
(광주일고).
Cross the Geumnam-ro(금남로), and walk onto the alleyway next to Shinhan Bank Bldg.(신한은행빌딩).
Go straight for about 90m.