Jikjisa Temple Stay (직지사 산사체험)
Address
95, Jikjisa-gil, Daehang-myeon, Gimcheon-si, Gyeongsangbuk-do
경상북도 김천시 대항면 직지사길 95 (대항면)
Type
Temple Stays
Inquiries
• 1330 Travel Hotline: +82-2-1330
(Korean, English, Japanese, Chinese)
• For more info: +82-54-428-1716 /
+82-10-6356-6084
Homepage
www.jikjisa.or.kr (Korean, English)

VisitKorea does not guarantee the quality of products or services introduced on its site and is not responsible for any direct or indirect losses resulting from use of said products or services.
Introduction
Jikjisa, located in Hwangak Mountain, Daehang-myeon, Gimcheon-si, Gyeongsangbuk-do, has a temple stay program which offers an opportunity for busy urbanites to relax and have some quality time for themselves. The temple stay includes learning temple etiquette, yebul (Buddhist service), 108 prostrations, talks with a monk, lecture on Buddhist culture, chamseon (Zen meditation), and barugongyang (formal monastic meal). Unique to the temple is an early morning walk to Hwanhuidae through which you may look deep down your heart and clear out all your afflictions.
Telephone
+82-54-428-1716
+82-10-6356-6084
E-Mail
jikjisa@templestay.com
Map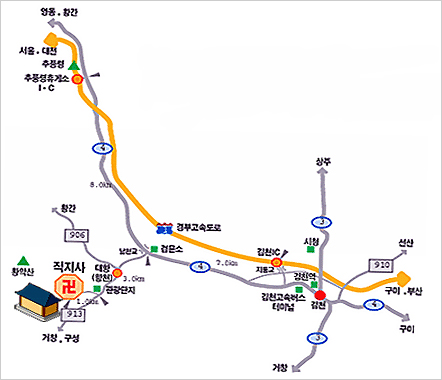 Activity Information
1. Neurim, Bium, and Nanum Temple Stay (2 days 1 night)
Available every 2nd and 4th weekend of a month.
Registration fee: (Adult) 50,000 won / (Youth) 30,000 won

2. Oyujijok Buddhist Practice Temple Stay (3 days 2 nights)
Available from July to August.
Anyone interested in Temple Stay can participate. (Students must be accompanied by a parent or guardian.)
Registration fee: (Adult) 100,000 won / (Youth) 60,000 won

3. Yadanbubsuk Temple Life
Available from May to October.
Contact Jikjisa Temple Office (+82-54-429-1716) or Gimcheon Cultural Center (+82-54-434-4336) for inquiries

4. Relaxation type Temple Stay (2 days 1 night - 5 days 4 nights)
Available all year round.
Registration fee (for 2 days 1 night): (Adult) 30,000 won / (Youth) 20,000 won

5. Group Temple Stay
This program is available for business, school and group training.
Maximum of capacity: 20 to 100 people
* Contact Jikjisa Temple Office for inquiries

6. Temple Life for Students
Open in summer vacation for 3 days 2 nights and winter vacation for 5 days 4 nights.
Elementary / Middle / High School Students can participate.
Registration fee: (Summer) 60,000 won / (Winter) 150,000 won

※ Personal toiletries, towel, a change of clothes and a white T-shirt, comfortable walking shoes should be prepared.
Parking Facilities
Available
Available Facilities
Mandeokjeon Hall, lecture hall, Ansimryo Hall, Yukhwadang Hall, Singeomdang Hall, toilet, shower room, garden
Restrooms
Available
Facilities for the Handicapped
(Separate) Restrooms
Reservation Info. for Foreigners
Visit online (www.jikjisa.or.kr) or contact at +82-54-428-1716 to learn more details.
Directions
[Bus]
From Dong Seoul Terminal, take an intercity bus to Gimcheon Station.

[Train]
Take KTX / Saemaeul-ho Train / Mugunghwa-ho heading to Gimcheon.
From Gimcheon Station, take Bus No. 11 or No. 111 bound for Jikjisa Temple (직지사).