Busan Youth Hostel Arpina (부산관광공사 아르피나)
Busan Youth Hostel A...

Address
35, Haeundaehaebyeon-ro, Haeundae-gu, Busan
부산광역시 해운대구 해운대해변로 35 (우동)
Type/Class
Youth Hostel/-----
Inquiries
• 1330 Travel Hotline: +82-2-1330
(Korean, English, Japanese, Chinese)
• For more info: +82-51-740-3228
Homepage
www.arpina.co.kr
(Korean, English, Chinese, Japanese)

VisitKorea does not guarantee the quality of products or services introduced on its site and is not responsible for any direct or indirect losses resulting from use of said products or services.
Introduction
Arpina (opened in July, 2004) is within minutes of Haeundae and Gwangalli beaches, the Busan Convention Center (BEXCO), Centum City, and other popular attractions of Busan. Offering 103 guestrooms of 9 different room types and a variety of subsidiary facilities, the youth hostel has everything needed for tourists, business travelers, students, and families to have a relaxing and pleasant stay.

Family rooms are equipped with a kitchen and a private bathroom; large dormitory-style rooms come with shared bathrooms and are perfect for group travelers or students on summer vacation. Comfortable single guestrooms are available for business travelers and other travelers who crave a little more privacy than the dorms. There are even some Korean-style "Ondol" rooms for guests who want to experience traditional Korean sleeping arrangements.

Facilities include a fitness center, a swimming pool, a golf range, a sauna, restaurants, and seminar rooms. The youth cultural & training center and outdoor grass playground also make the hostel the perfect place for youth training camps.
Telephone
+82-51-740-3228
Fax
+82-51-740-3225
Maximum Occupancy
469 people
Map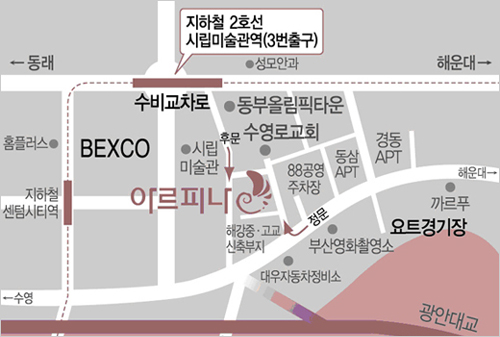 Guestroom Information
Family Superior, Family Suites, Superior Twin, Superior Triple, Korean Superior, Korean Deluxe, Youth Rooms (for 4/6/8 people)
Number of Guestrooms
103 rooms
Room Amenities (Colored backgrounds designate availability)
| | | | | | | | | | |
| --- | --- | --- | --- | --- | --- | --- | --- | --- | --- |
| | | | | | | | | | |
| TV | Fridge | A/C | Laundry Service | Dryer | Jacuzzi / hot tub | Internet | Cable | Personal Safe | Kitchen Facilities |
Guestroom Kitchen
Available only in family guestrooms
Check-In Time
14:00
Check-Out Time
12:00 (during peak season: 11:00)
Room Rates
₩ 175,000~


* The room rate is the lowest price for this accommodation. Rates may vary according to season, room type and whether or not guests are entitled to discount rates. Please make sure to check the exact rate in advance before making your reservations. The room rate listed above is subject to change.
Additional Taxes
N/A (Included in room rates)
Peak Season
July-August & December (* Peak season may vary by year.)
Meals
Not available
Subsidiary Facilities
Banquet hall, wedding hall, swimming pool, golf range, car rental agency, walking path, fitness club, grass field, etc.
Restaurants
Restaurant, bar, sky lounge, convenience store
Parking Facility
300 parking spaces
Facilities for the Handicapped
Guestrooms, separate restrooms
Reservations
Tel: +82-51-740-3228 / www.arpina.co.kr
Credit Cards
Accepted
Assistance for Foreigners (Available Languages)
English, Japanese
Newspapers
Not available
Baby Stroller Rental Services
Not available
Pets
Not permitted
Directions
[Subway]
Busan Museum of Modern Art Station (Busan Subway Line 2), Exit 3.
Go straight (330m) until you see Arpina on the left.