Doulos Hotel (둘로스 호텔)
Doulos Hotel (둘로스 호텔...

Address
22, Supyo-ro 18-gil, Jongno-gu, Seoul
서울특별시 종로구 수표로18길 22 (관수동)
Type/Class
Inn/Motel/-----
Inquiries
• 1330 Travel Hotline: +82-2-1330
(Korean, English, Japanese, Chinese)
• For more info: +82-2-2266-2244 (Korean)
Homepage
www.douloshotel.com
(Korean, English, Japanese)

VisitKorea does not guarantee the quality of products or services introduced on its site and is not responsible for any direct or indirect losses resulting from use of said products or services.
Introduction
Doulos Hotel is a business hotel with a variety of conveniences such as a 24-hour laundry center, free continental breakfast, a movie theater, and seminar rooms. The hotel further caters to business travelers by employing staff members who are able to provide guest assistance in English and Japanese.
Telephone
+82-2-2266-2244
Fax
+82-2-2266-8267
E-Mail
webmaster@douloshotel.com
Map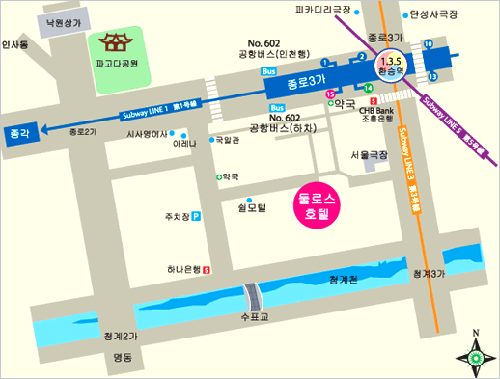 Guestroom Information
Standard Double, Deluxe Double, Deluxe Twin
Number of Guestrooms
46 rooms
Room Amenities (Colored backgrounds designate availability)
| | | | | | | | | | |
| --- | --- | --- | --- | --- | --- | --- | --- | --- | --- |
| | | | | | | | | | |
| TV | Fridge | A/C | Laundry Service | Dryer | Jacuzzi / hot tub | Internet | Cable | Personal Safe | Kitchen Facilities |
Guestroom Kitchen
Not available
Check-In Time
14:00
Check-Out Time
12:00
Room Rates
₩ 100,000~


* The room rate is the lowest price for this accommodation. Rates may vary according to season, room type and whether or not guests are entitled to discount rates. Please make sure to check the exact rate in advance before making your reservations. The room rate listed above is subject to change.
Additional Taxes
10% VAT (not included in room rates)
Service Charges
N/A (included in room rates)
Peak Season
December-March / June-August
Meals
Available
Discount Information
Discounts available for those reserving online.
Subsidiary Facilities
Business center, small theater, meeting room, laundry room, lounge
Parking Facility
9 parking spaces
Facilities for the Handicapped
Guestrooms, restrooms
Reservations
Tel: +82-2-2266-2244 / Online
Credit Cards
Accepted
Pickup Services
Not available
Assistance for Foreigners (Available Languages)
English, Japanese
Newspapers
Available in the lobby
Baby Stroller Rental Services
Not available
Pets
Not permitted
Directions
[Subway]
Jongno3-ga Station (Subway Line 1,3, or 5), Exit 15.
It is a 5min-walk from the station.

[Airport Limousine Bus]
From the Incheon International Airport take Bus 6002.
Get off at Jongno 3-ga.