Seoul Hostel - Goodstay
Seoul Hostel - Goods...

Address
Seoul-si Jongno-gu Ikseon-dong 53
서울특별시 종로구 돈화문로11나길 53 (익선동)
Type/Class
Guest House/-----
Inquiries
- Korea Travel Phone +82-2-1330 (Korean, English, Japanese, Chinese)
- For more info +82-2-3673-3671 /
+82-70-7893-3671 (Korean)
Homepage
www.seoulhostel.net (English only)

VisitKorea does not guarantee the quality of products or services introduced on its site and is not responsible for any direct or indirect losses resulting from use of said products or services.
Introduction

Seoul Hostel is located in the heart of Seoul's tourist attractions. Near Insa-dong, Changdeokgung Palace, and Jongno 3-ga, the hostel is a lodging facility, specially tailored to international tourists.

Most rooms are equipped with two single beds. Clean facilities, a safe environment, and outstanding services have attracted many international tourists over the years. The hostel is particularly popular among female tourists as they constitute 90% of visitors staying in the hostel. Conveniently located near Insa-dong, Changdeokgung Palace, Jongmyo (Royal Shrine), Jongno 2-ga and Jongno 3-ga, the hostel also has easy access to Myeong-dong, Daehak-ro, Dongdaemun Market and Namdaemun Market thanks to well-developed public transportation. In fact, three subway lines (#1, #3, and #5) are right next to the hostel, taking visitors to anywhere they wish in Seoul. In recent years, the hostel has also accepted female Korean tourists and family tourists with children.


Administration
Han Jae-ho
Telephone
+82-2-3673-3671 / +82-70-7893-3671
Fax
+82-2-3673-3677
E-Mail
seoulhostel@gmail.com
Maximum Occupancy
60 people
Map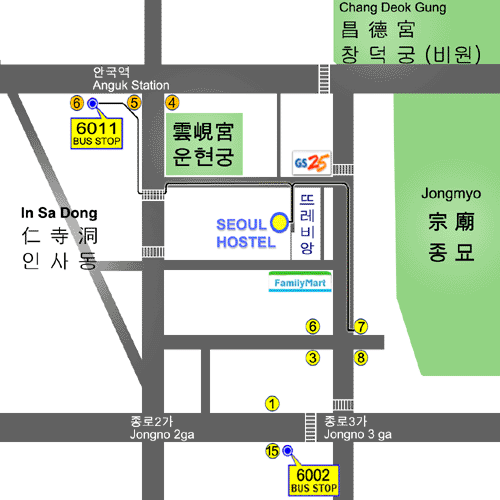 Guestroom Information
Twin room, Double room. Single room
Number of Guestrooms
30
Room Amenities (Colored backgrounds designate availability)
| | | | | | | | | | |
| --- | --- | --- | --- | --- | --- | --- | --- | --- | --- |
| | | | | | | | | | |
| TV | Fridge | A/C | Laundry Service | Dryer | Jacuzzi / hot tub | Internet | Cable | Personal Safe | Kitchen Facilities |
Guestroom Kitchen
Not available
Check-In Time
14:00
Check-Out Time
10:00 (The hostel offers baggage services for holding luggage after checkout if there are no visitors waiting in line after arriving at the hostel in the morning)
Room Rates
₩ 40,000~


* The room rate is the lowest price for this accommodation. Rates may vary according to season, room type and whether or not guests are entitled to discount rates. Please make sure to check the exact rate in advance before making your reservations. The room rate listed above is subject to change.
Peak Season
Spring April 25th - May 15th
Summer & Fall July 15th - October 15th
Winter December 15th - January 15th
Meals
Not available
Discount Information
- Double and twin rooms are discounted 20% for visitors staying in the hostel for more than seven days.
- Double and twin rooms are discounted 10% for visitors staying in the hostel for more than two days (applicable until July 31st).
- Regular rates apply throughout the peak season (summer 2010).
Subsidiary Facilities
Lobby, Wireless Internet
Parking Facility
6 cars are available
Reservations
+2-3673-3671 / +82-70-7893-3671
Assistance for Foreigners (Available Languages)
English, Japanese, Chinese
Pets
Not available
Directions
Anguk Station, Seoul Subway line 3, Exit #4 or Jongno 3-ga Station, Seoul Subway line 1 & 5, Exit #7 >> 5min walk from the station