Chuncheon International Mime Festival

Chuncheon International Mime Festival
On asphalt roads, strangers throw water bombs at each other whenever they encounter someone around the corner. Squirt guns are everywhere. Some even use sprinklers or water hoses, small and big, to spray water in all directions. These people are from all walks of life. They are all in different clothing, some wearing swimming goggles, in raincoats or in swimsuits. Others do not even bother to change their clothes at all. They just wear their everyday attire. Just days before, the streets were full of trucks and cars. When the festival starts, they are full of fun, madness and, of course, water. Water flies and dances in all directions as people scream and laugh to the background of other blaring sounds. No one would deny that they are in the center of complete madness. Yet more is to come. At one street corner, Homo Ludens Company performs a street performance inspired by Robinson Crusoe, where the protagonist was left alone in an uninhibited island. On another stage, Fire Fingers, a troupe of performers from Australia, display mysterious fireworks. A wonderful fire artist, Jay Toor, or otherwise known as Ms. Flames, performs a provocative dance, act and spectacular acrobatics before the crowd. The festival enters into the night, getting more heated, wild and fantastic. Oh, this is not the end. This is just the beginning.

That is how the 2012 Mime Festival was launched all around Chuncheon and continued for the next seven days. The seven-day festival invites music bands and performers from all over the country and the world to play music on the streets. In the theater, a body performance is presented. Here, even the slightest sound that is created when the body of one performer touches another becomes a part of the performance. A piece of somewhat shocking experimental theater also awaits people. Man-made images, sounds and lights are mixed with and removed from the bodies, blurring the boundary between the human body and the outside world. As the festival heads toward the finale, Chuncheon becomes a sleepless city. Friday here is 'Mad Friday.' Only people aged over 19 are allowed to participate in this Friday madness, which begins at 10 P.M. and continues till 5 A.M. the following morning. From 2 P.M. on Saturday to 5 A.M. on Sunday, there is no big, main stage at all. In the Waterfront Park and the Children's Hall, everything that can be performed, such as music, mime, dialogues and dance are presented freely here and there. The crowd is shoved towards unintended destinations, and wherever they go, passion and youth await. Every corner overflows with people, passionately singing, dancing, yelling and running until they are out of breath. Some in the audience hold their breath, lost in the performance of actors on the stage. Sometimes they are even moved to tears. The theme of the Chuncheon International Mime Festival is not only mime itself but also for a youth that has a lot more to express in action rather than in words.

The Chuncheon International Mime Festival is organized by a private organization. The festival is not only unique to Korea, but is spread to the Asian region, aiming to display high art in the form of a disorderly but passionate festival. It is meaningful because performances have long been considered just as part of high art. In this regard, the festival is different from other Korean and Asian festivals. Along with the London International Mime Festival of the U.K. and the Mimos Mime Festival of France, the Chuncheon Mime Festival is regarded as one of the world's three major mime festivals. The festival was chosen as an outstanding culture tourism festival for eight consecutive years from 1999 to 2006 by the Ministry of Culture and Tourism. From 2007 to 2011, the Ministry of Culture, Sports and Tourism designated the festival as one of the premier culture tourism festivals for five consecutive years, making it one of the most representative arts festivals in Korea. The number of visitors increases every year. In 2011, the one-week festival attracted 130,000 people. In 2012, the number surpassed 150,000, partly thanks to the new installation of a track for the Gyeongchun line that connects Seoul and Chuncheon. As the festival gains popularity, the organizer allows the closing ceremony to be viewed for free. Here, performers and young foreign visitors alike get excited by young, artistic passions and inspirations. Young Koreans in Chuncheon look different as they free themselves from responsibilities and worries of their everyday lives as they freely hang out with foreigners.

The festival events take place in almost every place of Chuncheon such as Chuncheon Jungang Rotary, Chuncheon Culture and Art Center, Festival Theater Momzit, Seokwoo Hall in Chuncheon National University of Education, Children's Hall and Little Baseball Field. These festival venues allow you to take your time to look around the leisurely Lake City of Chuncheon. Many Seoulites consider Chuncheon a popular getaway due to its charming attractions. Everything here is relaxing and laid-back. Nearby cities such as Gapyeong and Hwacheon are also great tourist attractions. Among other places, Gangchon has many camping sites favored by college students and Seombae Village is a typical yet peaceful farming village of Korea. Jipdarigol Natural Recreation Forest is another great destination. Soyangho Lake, Uiamho Lake and Chuncheonho Lake were formed as a result of a dam construction. Drive along the lakes or take a slow walk around them. There are many great spots with a fine, peaceful view where you can enjoy a nice, hot cup of tea.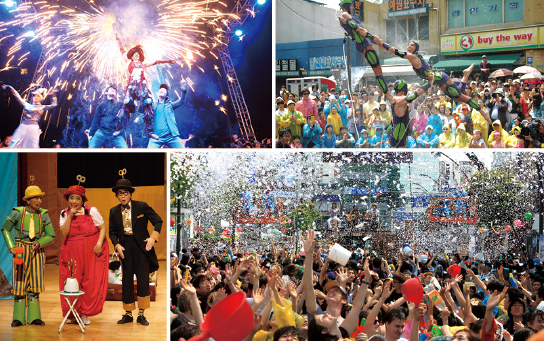 ---