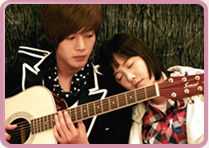 Geum Jan-di is a normal schoolgirl who accidentally prevents a student from committing suicide while delivering laundry to Shinhwa High School. As a result of the incident and then due to her exceptional swimming skills, Jan-di is specially selected to join Shinhwa High School, which normally only accepts the top 1% of the richest people in Korea. The school is dominated by "F4" the four best looking, most powerful boys in the school, and when she starts Jan-di finds their red card hanging in her locker, which makes her F4's and the rest of the students' target for bullying. However, Jan-di overcomes this with her uniquely optimistic personality, and Gu Jun-pyo, the leader of F4 and also the heir to the Shinhwa business conglomerate, falls in love with her. Used to always doing as he pleases, Gu Jun-pyo begins a relationship with the pure-hearted Jan-di, but there are plenty of obstacles and misunderstandings that get in the way of their happiness
| | |
| --- | --- |
| | Introduction of Cast Members |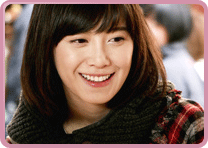 ●Geum Jan-di (originally Makino Tsukushi) played by Koo Hye-seon
Geum Jan-di is a normal schoolgirl whose family manages a small dry cleaning business. One day she is selected to join the prestigious Shinhwa High School, where she joins the swim team. Unable to stand the nagging of her parents, Jan-di decides to attend Shinhwa High School, but when she starts she is tagged with the F4's red card and has to endure teasing and bullying from them and the other students. However, displaying her strong, bright personality, Jan-di stands up to F4 and the entire student group. At first she begins to fall for F4's Yun Ji-hu, but then the leader of F4 and heir to the Shinhwa business conglomerate, Gu Jun-pyo, openly professes his love for her in front of the school, and she becomes the envy of all the girls. Geum Jan-di is an optimistic and honorable girl who is never dazzled by financial wealth or social status. Even after she joins Shinwa High School she remains true to her ideals.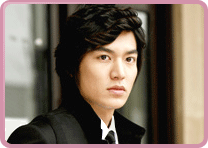 ●Gu Jun-pyo (originally Domyoji Tsukasa) played by Lee Min-ho
Gu Jun-pyo is the leader of F4 and heir to the global business enterprise of Shinhwa Group. His trademark is his curly hair. He is used to doing whatever he wants whenever he wants and often offends others with his aggressively direct personality. However, under his tough exterior Jun-pyo is a pure-hearted young boy. Gu Jun-pyo was raised by the employees of his parents' company, since his parents didn't have time for him, so, naturally, he is attracted by the warmth of Jan-di's normal family. Although he dismisses Jan-di at first because she is not rich, he ends up falling head over heels for her charming bright personality.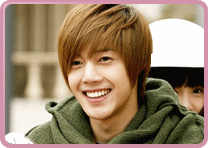 ●Yun Ji-hu (originally Hanazawa Rui) played by Kim Hyun-joong
Yun Ji-hu is the most handsome member of F4 and the grandson of a former Korean president. When he was five years old, he was the sole survivor of a car accident that killed both his parents, and as a result he became withdrawn and anti-social. However when he meets his first love, Seo-hyeon, she helps him get over his difficulties. After meeting Jan-di on the staircase, Yun Ji-hu also becomes her knight in shining armor and helps her out whenever she needs it. This character likes to be alone and has a bit of a strange personality. Yun Ji-hu has a great love and talent for music, and is set to become the leader of the Suam Cultural Foundation, Suam Art Center, and Suam Orchestra.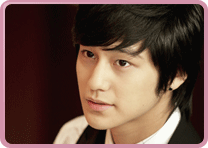 ●Lee Jeong (originally Nishikado Sojiro) played by Kim Beom
Lee Jeong's father is Korea's most famous Master of Arts. When Lee Jeong's older brother leaves the family, Lee Jeong suddenly becomes the heir to Korea's largest private museum, Woo Song. He is popular with girls due to his gentle manners and clean-shaven appearance. After being hurt by his first love he turns into a bit of a playboy, but then he starts to show an interest for Jan-di's friend Ga-eul. Cold and uncompromising at first, Lee Jeong is in fact a warm character at heart.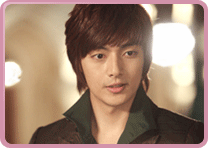 ●Song Wu-bin (originally Mimasaka Akira) played by Kim Jun
For many generations, Song Wu-bin's family has been the leaders of the criminal organization, Ilsim, and he is the heir to Ilsim Construction. Ilsim has extensive networks and a great ability in manipulating cash flows, which even the Shinhwa Group cannot ignore. Whenever his fellow F4 members are in trouble, Song Wu-bin makes a call to his large network of connections so that the problem is quickly taken care of. Song Wu-bin has an innate sense of finances and is also a great fighter. Even though he is still young, Song Wu-bin already displays a charisma well fitting for a boss of the underworld.
| | |
| --- | --- |
| | Introduction of Filming Locations |
Keimyung University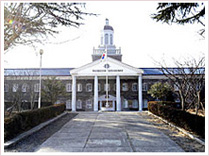 Keimyung University is the setting for the prestigious Shinhwa High School, the school attended by the main characters in the drama and which only children of the top 1% of the wealthiest families in Korea can attend. Keimyung University is situated in the city of Daegu. Its Western-style buildings and gorgeous natural surroundings make it one of the top ten most beautiful campuses in Korea, and consequently it's a popular filming location for dramas and films. Major productions filmed at Keimyung University include the drama <East of Eden> and the movie <Thirst>. Keimyung University consists of Seongseo campus and Daemyeong campus and the drama's school scenes were filmed at both campuses. The beautiful Greek-style front gates and red-bricked buildings, along with Ji-hu and Jan-di's secret hideout on the staircase, are all located in Keimyung University's campuses.

Travel Information Telephone: +82-53-1330 (Korean, English, Japanese, Chinese)


Homepage: www.kmu.ac.kr (Korean, English, Chinese)


Seongseo campus: +82-53-580-5114, 1000 Sinsang-dong, Dalseo-gu district, Daegu city From Seoul station, take a train to Dongdaegu -> from Dongdaegu station, get on the subway -> get off at Keimyung University station on line 2


Daemyeong campus: +82-53-580-5785, 2139 Daemyeong-dong, Nam-gu, Daegu city
From Seoul station, take a train to Daegu -> from Daegu station, take bus#202, 202-1, or 808
Damyang Dynasty Country Club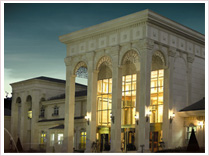 The Damyang Dynasty Country Club is the setting for the home of Shinhwa Group's Gu Jun-pyo, as well as a film set in Hwaseong. This Italian villa style clubhouse features enormous luxurious buildings, which have even been called 'the palace of the gods'. The country club was designed by the internationally renowned architect Andrei Visego, who recently designed the interior for a high-class hotel in Dubai. The buildings are furnished with the highest-quality natural marble floors, beautiful pillars replicating Athen's shrines, luxury antique furniture, and famous works of art, and are sure to dazzle all visitors.

Address: Hwadong-ri San 79, Damyang-eup, Damyang-gun region, Jeollanam-do province


Contact: +82-61-380-7500


Homepage:
http://dy.dynastycc.co.kr

Directions: Take a taxi from Damyang Terminal

Lotte Hotel World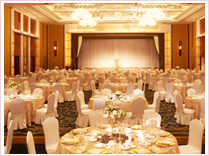 Lotte Hotel World was the location for the homecoming party of Min Seo-hyeon, Ji-hu's girlfriend. The party takes place in episode two, and Jan-di comes dressed up as Wonder Woman, to everyone else's amusement. However, Min Seo-hyeon helps Jan-di change into a beautiful dress, and she captures the heart of Gu Jun-pyo. This scene was shot in the Topaz Room, the Lotte Hotel's third floor banquet hall. Lotte Hotel World is located in Jamsil in Seoul and is part of a complex that includes an extra-large supermarket, a department store, and the Lotte World theme park. Conveniently it is directly connected to Jamsil station on subway line 2. The hotel can be reached directly from Incheon and Gimpo airports by limousine bus.

Address: 40-1 Jamsil-dong, Songpa-gu, Seoul


Contact: +82-2-419-7000


Homepage: http://www.lottehotelworld.com(Korean, English, Japanese, Chinese)


Directions: Connected directly to exit #3, Jamsil station, subway line 2.
From Incheon International airport (gate #4B or 11A) take a limousine bus (est. travel time of 1hr 20min, cost 13,000 won)
Gyeonggi English Village, Yangpyeong Camp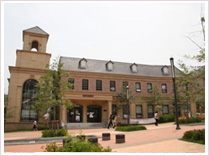 The English Village in Yangpyeong was the setting for Shinhwa High School's hallways, lobby, and exterior facades. First opened in April 2008, Gyeonggi English Village Yangpyeong Camp covers a 100.935㎡ area and has a total of 55 buildings, which are modeled on historical buildings in Virginia, United States. This educational English camp consists of condo-style dormitories, an artificial soccer turf, indoor gymnasium, health club, swimming pool, outdoor concert hall, observatory facilities, and more. The English Village was the location for the scene when Jan-di's friend, Oh Min-ji, spills ice cream on Gu Jun-pyo's shoes.

Address: Damun-ri San 25, Yongmun-myeon, Yangpyeong-gun region, Gyeonngi-do province


Contact: +82-31-770-1300


Homepage:
http://www.yea.or.kr

Directions: From Dong Seoul terminal, take a bus headed towards Yongmun (est. travel time of 1hr) -> get off at Unbong Mart and walk straight past the overpass

Gyeongju Shilla Millennium Park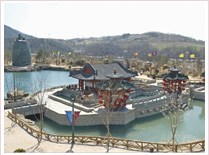 Ragung hotel in Gyeongju was the setting for Yun Ji-hu's traditional Hanok home. This high-class hotel consists of 16 separate houses, which are connected by corridors. The construction of the hotel required the largest number of specialized carpenters since the restoration of Gyeongbokgung Palace. Ragung was actually the name for the royal palace during the Silla dynasty. Guestrooms include private gardens and hot spring baths. The hotel is located in Korea's very first historical theme park, the Shilla Millennium Park, and hotel rates include breakfast, dinner, and admission tickets to the theme park.

Address: 719-70 Sinpyeong-dong, Gyeongju city, Gyeongsangbuk-do province


Contact: +82-54-778-2000


Homepage: http://www.smpark.co.kr (Korean, English, Japanese, Chinese)


Directions: From Gyeongju station, take a bus heading towards Bomun Tourist Resort -> get off at the Bomun Tourist Resort Shilla Millennium Park


Hotel rates: 300,000 won ~ 460,000 won


Check in & check out times: 2:00pm, 11:00am
Shinsegae Department Store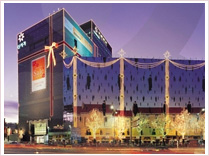 Before Gu Jun-pyo and Jan-di leave for their vacation in New Caledonia, they go shopping at a department store. The main branch of the Shinsegae Department Store, in Myeong-dong, was the location for the scene in which Jan-di becomes the envy of girls everywhere. Gu Jun-pyo shows off his money and drags her around buying her all sorts of merchandise. This department store is divided into a main building and an annex. It stocks a wide selection of famous brand names. Luxury brands can be found inside the deluxe main building while the elegant annex building contains both domestic and international brands. Visitors to the Shinsegae department store can also enjoy shopping at Namdaemun Market and Myeong-dong, which are located nearby.

Address: 52-5 Chungmuru 1(il)-ga, Jung-gu, Seoul


Contact: +82-1588-1234


Directions:
* Exit #5, Myeongdong station, subway line 4 -> walk straight towards the Namdaemun Market then walk through the underground passageway
* Exit #7 Hoehyeon station, subway line 4 -> take the moving walkway all the way to the Shinsegae Main Building


Department store hours: 10:30am ~ 8:00pm
N Seoul Tower & Grand Hyatt Hotel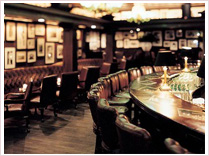 Seoul's famous N Seoul Tower is the location where Gu Jun-pyo waits for Jan-di ion a freezing winter night. The two had planned to go on a date, but become trapped in the gondola on the way to the N Seoul Tower and have to spend the night there. On their way down from Namsan mountain the next day, the couple are photographed by the paparazzi and are thought to be coming out of the Grand Hyatt Hotel. The Grand Hyatt Hotel is the location where the Jan-di and Ga-eul and their boyfriends enjoy a double date on the ice skating rink. A spectacular view of the Hangang River and Namsan can be seen from the high-class Grand Hyatt Hotel. The hotel contains a total of 601 guestrooms as well as 11 restaurants and bars, a fitness center, and other luxury facilities.

Address:747-7 Hannam 2(i)-dong, Yongsan-gu district, Seoul


Contact: +82-2-797-1234


Homepage: http://www.grandhyattseoul.co.kr (Korean, English, Japanese)


Directions: From Incheon International airport, limousine buses run directly to the Grand Hyatt Hotel (5:45am ~ 6:35am; departs every 20~30min; 14,000 won) Free shuttle buses to the hotel also run from in front of the Itaewon Family Mart and the Migliore Shopping Mall in Myeongdong from 10:00am to 9:00pm
Muju Resort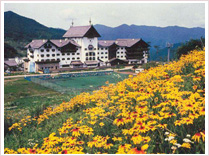 In the 12th episode, F4 and Geum Jan-di decide to take a ski trip. Jun-pyo gives Jan-di a special necklace, but she ends up losing it. Desperate, Jan-di heads off into the mountains alone to look for the necklace and gets lost in the dark. Fortunately, Gu Jun-pyo finds her, and they take shelter in a cabin, but they become trapped for the night due to the heavy snowfall. The ski resort that F4 and Geum Jan-di visit is Muju Resort, and they stay at the resort's Hotel Tirol. As well as skiing in the winter, Muju Resort offers leisure activities throughout the year. It was also the filming location for the popular drama . Visitors can enjoy a gondola ride to the beautiful peak of Deokyusan Mountain or relax in the resort's outdoor hot springs
☞Click here to read the Muju Resort
Artinus Farmer's Table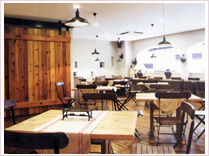 The Farmer's Table is a restaurant located on the first floor of the Artinus building in Heyri Art Village, which is designed to capture the simplicity and comfortable atmosphere of a farmer's table. The walls are made of stone and wood, and the floors and tables are made from natural materials. The herb garden at the center of the restaurant makes visitors feel as if they are in the center of forest. This was the location for the posh cafeteria of Shinhwa High School. Visitors can enjoy refreshments and food while reading the complimentary books that are placed around the restaurant. There is also a children's bookstore on the second floor and a gallery on the basement floor, where various exhibitions take place

Address: Heyri Artinus 1F, 1652-393 Beopheung-ri, Tanhyeon-myeon region, Paju town, Gyeonggi-do province


Travel Information Telephone: +82-31-1330 (Korean, English, Japanese, Chinese)


Heyri Homepage: http://www.heyri.net (Korean, English)


Directions: take bus #200 or 2200 from exit 2 of Hapjeong station, subway line 2-> get off at Heyri and go through gate #4 then make a right on the first 4-way intersection


Opening hours: 11:00am~10:00pm
Photos courtesy of KBS