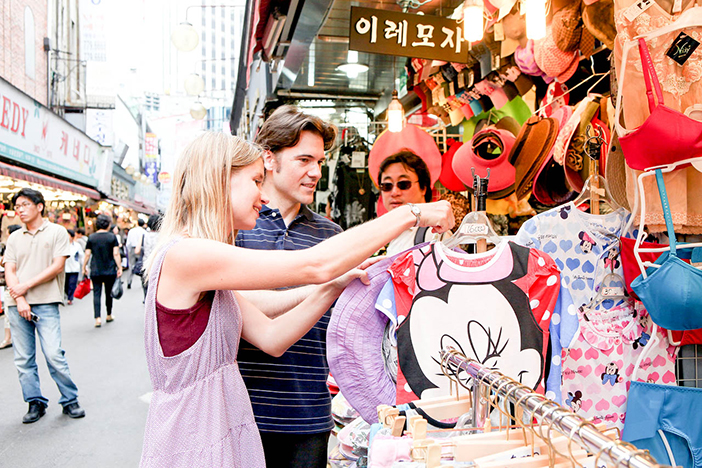 【 Photo: Tourists shopping at Namdaemun Market 】
Traditional markets in Korea offer a variety of unique scenes; it's always bustling with lively energy, savory smells, and interesting items that cannot be found anywhere else. Discover Korea's market culture and lifestyle by visiting any one of the markets listed below
Popular Traditional Markets in Seoul
Traditional markets in Seoul are one of the best places to experience the coexistence of modernism and tradition all at once. Every market bustles with vendors of all kinds as well aplethora of delicious street food. When looking for a place to either shop or eat, a visit to one of these Korean marketplaces is a must!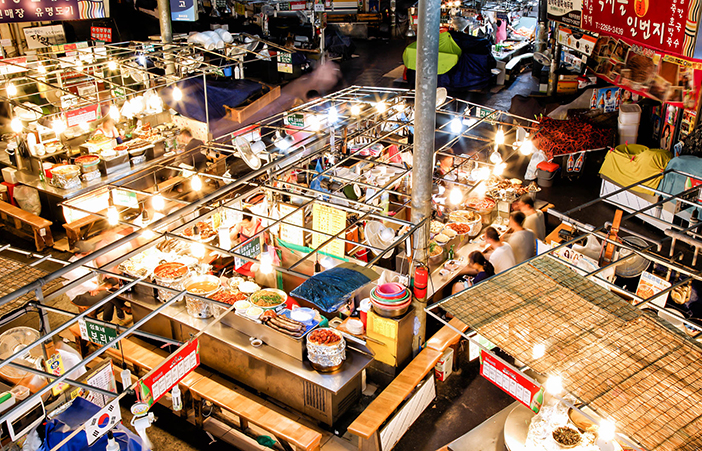 【 Photo: Scenery of Gwangjang Market 】
【 Photo: Dosirak (lunchbox) at Tongin Market 】

【 Photo: Noryangjin Fisheries Wholesale Market 】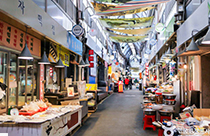 After the Korean War, a rapid population growth took place in Seochon near Gyeongbokgung Palace; as a result, an increasing number of vendors and stores formed around the area. These vendors and stores developed into a busy marketplace now known as Tongin Market. Tongin Market is estimated to have at least 80 vendors and stores as of today, which mainly consist of restaurants or food stalls. What sets Tongin Market apart from the other markets is the Dosirak Café. At the Dosirak Café, you can buy a lunch tray and 10 yeopjeons (old Korean currency) for 5,000 won. You can use the yeopjeon to buy food and fill your lunch tray as you tour around the marketplace, offering both a fun and unique dining experience. Gyeongbokgung Palace, Gwanghwamun Gate, and Samcheongdong-gil Road are some nearby attractions that are easily accessible from Tongin Market.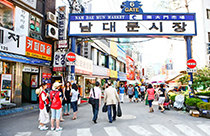 Namdaemun Market is a traditional market with a history of over 600 years. It offers over 1,700 varieties of goods at affordable prices which include pottery, clothing, accessories, kitchenware, and regional specialties. It is also known as one of the best marketplaces to buy traditional handicrafts, glasses and sunglasses. In particular, Namdaemun Market is famous for delicious foods such as, guksu (noodles), jokbal (pig's trotters) and galchi jorim (stewed beltfish). Popular attractions like Myeong-dong, Deoksugung Palace, and Gwanghwamun Gate are located nearby, making the market a perfect place to stop by after a tour of the neighborhood.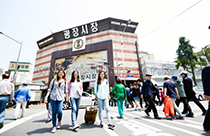 Gwangjang Market was the first permanent market established in Korea and dates back to 1905. The first thing that comes to mind when Koreans hear the name "Gwangjang Market" is none other than food. The endless strip of food vendors in the market is quite unique, with each vendor crowded with lines of people waiting to experience mouthwatering food. The stores and food vendors serve popular Korean foods like bindaetteok (mung bean pancake), gimbap, bibimbap, and sundae (blood sausage).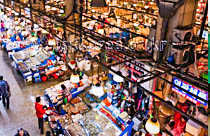 The Noryangjin Fisheries Wholesale Market is Korea's largest wholesale fish market that has a history of more than 90 years. Recently, the facilities in the market underwent renewal, providing a clean environment to buy fresh seafood. The market is open and busy 24 hours a day. At dawn, shop vendors open fish auctions for wholesale and by evening, the market is bustling with customers looking to buy fresh fish. Another unique experience to enjoy at Noryangjin Fisheries Wholesale Market is having your purchased seafood cooked or prepared to eat at any of the restaurants located upstairs. The market is connected to Noryangjin Station (Seoul Subway Line 1 and 9) via passageway.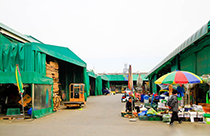 Opened in 1985 as the first public wholesale market in Korea, Garak Market is a large market complex divided into different sections. This is also where the standard unit price for vegetables and seafood is set before they are distributed to other regions. As Garak Market is extremely large, visitors are recommended to take advantage of the market map and plan which sections to visit within the market ahead of time.
Popular Traditional Markets Outside of Seoul
Popular traditional markets are not only found in Seoul, but also spread throughout the country. Traditional markets located outside Seoul offer unique regional specialties, with each market opening doors to a world of new discovery. In addition, major tour attractions located nearby make the markets a convenient place to stop by while sightseeing.
【 Photo: Hallabong citrus fruit juice
at Jeju Dongmun Market 】
【 Photo: Dumplings at
Incheon Sinpo International Market 】
【 Photo: Cheongnyeon (Youth) Mall map
at Jeonju Nambu Traditional Market 】

【 Photo: Ssiat hotteok at Gukje Market 】
This page was last updated on September 18, 2018, and therefore information may differ from what is presented here.