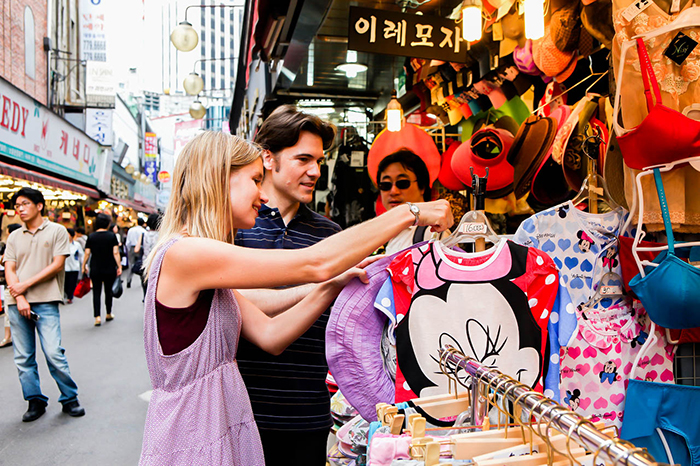 【 Photo: Tourists shopping at Namdaemun Market 】
Traditional Markets in Korea
Traditional markets in Korea offer a variety of unique scenes every day. Marketplaces bustle with life, activities, and the voices of vendors bargaining with customers. These traditional markets provide a livelihood for many Koreans. Vendors serving customers no matter the weather, the culture of "deom" (adding additional items to the purchase for no extra charge), and affectionate haggling are a few of the unique aspects of the Korean marketplace culture.
Popular Traditional Markets in Seoul
There's no better place to get a taste of real Korean life than the market. The biggest and most popular markets in Seoul are Namdaemun Market and Gwangjang Market, which not only sell Korean comfort foods, but also bustle with vendors of all kinds. When looking for place to either shop or eat, a visit to one of these Korean marketplaces is a must!
【 Tourists enjoying snacks at Gwangjang Market 】

【 Hanbok specialty stores at Gwangjang Market 】

【 Namdaemun Market 】

【 Noryangjin Fisheries Wholesale Market 】
Popular Traditional Markets Outside of Seoul
Probably only at the Korean marketplace, you will find most older generations manning their stands, ajummas (middle-aged Korean women) hunting for bargains, and groups of young ladies giggling and having fun. A trip to one of the city's busy marketplaces is an ideal place to soak up the genuine spirit of Seoul as an industrialized country with a lot of heart.
【 Dak-galibi at Chuncheon Romantic Market 】

【 Gyeongju Jungang Market 】

【 Jeju Dongmun Traditional Market 】

【 Ssiat-hotteok at Gukje Market 】
This page was last updated on August 22, 2016, and therefore information may differ from what is presented here.