Rain or Shine, COEX Mall is full of fun!
The COEX Mall is one of the largest underground shopping centers in Asia. More than just your typical shopping mall, COEX Mall gives visitors a smorgasbord of entertainment facilities and activities.
Walk right this way~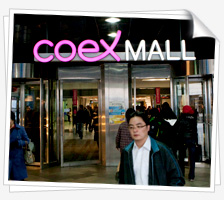 The COEX Mall is located right off of Seoul's inner line, Subway Line 2, so it's always packed full of shoppers and sightseers. At first glance the mall may seem like an overwhelming labyrinth, but after taking a second look, you'll notice that sections branching from the main corridor each have their own theme: the Forest Walk, the Valley Walk, and the Riverside Walk, for example. Some section names even serve as hints to help you remember what's located in that section. Visitors are advised to obtain a guide map at the information desk near the entrance of the mall before they start exploring, but whether you plan your route or just wander around, one thing is for sure: no matter which way you go, you'll find plenty of great things to see and do.
A Closer Look at Korea: The Kimchi Museum
If you need to kill time before your show starts at the mall's movie theater, take a look around Bandi & Luni's, one of the largest bookstores in Korea. The store always has the latest new releases and is well-stocked with some of your old favorites (and plenty of space to relax and read). If you're looking for a more specifically Korean experience, stop by the Kimchi Museum near the movie theater. The museum will let you know virtually everything there is to know about kimchi: its history, ingredients, types, etc. There's also an area in the museum for kimchi tasting, and an opportunity to make kimchi. A visit to the Kimchi Museum is truly a visit to the heart of Korean cuisine and culture.

Movies & Munchies
What better way to spend an evening than dinner and a movie? Take a friend or that special someone to one of the numerous restaurants at the mall's food court. The food court has everything from family restaurants such as Uno and Marche to hamburger chains; have dinner at a sit-down restaurant or dine out in the main section of the mall under the glass ceiling. Enjoy a meal of Korean, Western, Chinese, Japanese, or fusion food and then head toward Megabox.
Megabox is one of the largest movie theaters in Asia, attracting hundreds of thousands of people every year. It holds numerous red carpet events, movie festivals, and preview events.

Shopping Paradise with Over 270 Stores
Whether you are shopping to buy or just browsing, the hundreds of stores dotting the endless corridors and alleys are a delight to the senses. If you want casual accessories, go visit Enter 6; for a variety of brands at reasonable prices, visit The Mille 21. Those with a passion for luxury items should visit the Hyundai Department Store. It's nearly impossible to visit every store in the COEX Mall in one day, so visitors are advised to keep a guide map with them and plan their shopping accordingly.
Into the Deep Sea: The Aquarium
Needless to say, shopping can be tremendously fun. But don't overlook everything else COEX has to offer, like the COEX Aquarium. It only takes about one or two hours to look around the aquarium, but it is well worth the visit. The aquarium is home to over 40,000 creatures (650 species) ranging from those living in the wetlands to the tropical regions and deep seas. The colorful sea animals and the Sea Tunnel are sure to capture the attention of visitors of all ages. The aquarium is a great place for those traveling with children and for couples looking for a romantic date spot.

Free Concerts and Artsy Getaways
The COEX Mall is full of unique little cafés, coffee shops, and bars. The Event Court is often the spot of frequent free concerts, so get your coffee to go and get ready to be entertained. The Aqua Gallery, COEX Art Hall, and Asem Plaza are also wonderful places to go and soak up some of Seoul's modern culture.