Interview with Interior Designer Kim Hong-gu on Garosugil
Garosu-gil Road, an artsy area with a unique flair, has emerged as one of the favorite spots in Seoul. Garosugil's rising fame is largely thanks to the hard work and talents of the area's artists and designers. We met with the interior designer Kim Hong Gu (who has run a café in the area for the past three years) to discuss the seemingly irresistible charm of Garosugil.
Street of Calm Vibes and Colorful Folks
Q: Garosugil seems to attract plenty of designers. Why do you think that is?
A: When I settled here three years ago, there weren't nearly as many designer shops; Garosugil was pretty much about galleries. Garosugil is relatively less consumer-oriented than other places in Gangnam and it's a good environment in which designers can work and run a business. It's an area with a trendy but relaxed atmosphere; it definitely has its own personality.

Q :What was the biggest draw of Garosugil for you personally?
A : At first, I came here because I needed my own workspace. But after exploring the area, I found that it was a really fun and interesting place to be. Every shop seemed to be run by people with different experiences; there were designers, musicians, and even a movie director. To me, each of these different kinds of people adding their own colorful personalities and experiences to the scene is what makes the area so special. Above all, it is not a 'closed' street, but an 'open' street. It is a community that encourages communication both within the community and with the outside world. I think creativity only comes with open communication.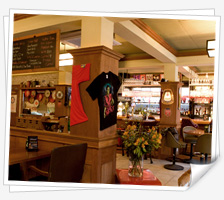 Q: Can you tell us a little about your café, Café Six O Two?
A: Initially, I didn't even really think about it as a café. It was primarily my workroom, but as visitors began spreading the word on their blogs or internet cafes, it became more and more popular. Eventually, I had so many customers that I moved my office to a different location and ran my former studio exclusively as a café.
Q:To what do you attribute your café's success?
A: I think my café gives customers a comfortable place to sit back and relax. I decorated the interior in a vintage style, trying to keep it as natural and comfortable as possible so that it would match the overall ambience of Garosugil. The café doesn't just serve coffee. Customers can also get wine, beer, or even pizza. Here at Garosugil we try not to conform to conventional norms, but instead try to offer things that may not be readily available in other places. That is exactly what Garosugil is all about.
Q: I heard you recently opened Sir Raymond, a British-style garden pub?
A: Yes. Korean visitors to the area have significantly increased in recent years and I believe that we will also continually see an increase in international visitors as well.
I opened the pub to provide international visitors with a homier, more comfortable place to come and enjoy a drink with friends. I introduced the British garden pub concept because I like open space just like in Six O Two. Sir Raymond serves all kinds of imported beer.
Q : Garosugil is one of the most rapidly changing streets in Seoul. How do you hope it will develop in the future?
A : Garosugil emanates a unique atmosphere different from other commercial streets. But, in the end, I hope the street will follow the example of Hongdae, and develop its own new and unique cultural identity.
* Profile of Kim Hong-gu
Kim Hong-gu established Square Studio (furniture design laboratory) and contributed to the restoration of Changdeokgung Palace (the royal palace). He participated in the Fortieth Anniversary of Benetton and works as an art director for the Seoul N Tower. He currently runs Six O Two and Sir Raymond on Garosugil.