Fairytale Weddings Start Here
Almost every bride dreams of having a picture perfect wedding straight out of a fairytale. With all the high-end wedding shops and excellent bridal services in Gangnam (the Apgujeong and Cheongdam-dong area), brides-to-be are only steps away from making their dreams a reality. Exquisite wedding dresses and sophisticated make-up services await both Korean and international brides, promising to make anyone become a real life beauty.
Before You Say "I do"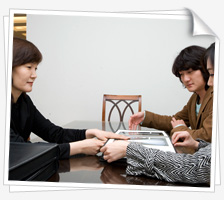 Becoming the perfect blushing bride demands meticulous preparation. Wedding shops in Gangnam offer everything essential for a flawless wedding; even total wedding packages that include everything from picking up the wedding dress to doing the make-up and wedding pictures. Anything future brides could possibly imagine can be done here at Gangnam.
Dresses to Match any Taste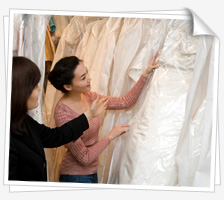 It is said that a woman never looks prettier than on her wedding day, so nothing is more important than picking out the perfect wedding dress. The boutiques at Gangnam boast an impressive array of designer wedding dresses from all over the world. No matter what her style (chic, cute, elegant, ornate), each bride is sure to find a gorgeous dress matching her unique, individual tastes. With the right wedding shoes and accessories (also a part of the diversity of products) each bride will be that much closer to becoming the princess she always dreamed she could be.
Make-up of the Stars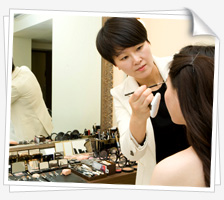 Each wedding shop in Gangnam works in collaboration with famous make-up shops that employ only the most skillful make-up artists in Korea. Brides can even receive the same make-up services as those used by Korean actress Kim Hee Seon. Regardless of a bride's race or ethnicity, these wedding shops will provide the services to make her skin look its best and radiantly glow for her special day.
Capturing the Memories
After the much-anticipated day sadly draws to a close, what better way to remember the magic than with a professionally-done photo album? Wedding shops in Gangnam offer one-of-a-kind wedding photo albums that are specifically tailored to each bride's preferences. Brides-to-be can choose from among a variety of themes, such as a fairytale concept or a mystical concept.

From start to finish, every woman wants her wedding day to be a special event in which she is the star. Although it may be difficult to do it by yourself, the professionals at Gangnam are standing by, willing and able, to make all your wedding fantasies come true!