Top Attractions of Itaewon
Hilton: The Tailor Shop of the Famous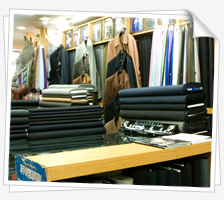 Hilton is approximately 40 meters from Exit #3, Itaewon Station (Subway Line 3). It is somewhat small and simple in its appearance, but it is an outstanding tailor shop whose clientele includes officials working for Cheong Wa Dae (the Office of the President), over 100 royal families from around the world, and international superstars.
The store is adorned with pictures of celebrities and other well known customers: Richard Lugar (United States Senator), Samaranch (former president of the International Olympic Committee), Luciano Pavarotti (Italian operatic tenor), Carl Lewis (track superstar), Hu Jintao (President of China), and Céline Dion (pop star), to name a few.
Lee Deok Ro, the owner of the Hilton, has served this distinctive client base for over 35 years. The secret of his success is simple: outstanding customer service and meticulous tailoring that considers the personal preferences, body shape, and skin tone of each customer.
World-Class Restaurants

Restaurants right behind the landmark Hamilton Hotel in Itaewon form a type of 200 meter-long exhibition hall of international foods. This 'Global Restaurants Street' has virtually reshaped Itaewon and represents all kinds of tasty food from all over the world. Visitors can find Indian, Pakistan, Japanese, Thai, Chinese, French, Italian, Greek, Belgian, Mexican, and Australian restaurants, and even a Bulgarian restaurant (the only one of its kind in Asia). Most restaurants are run by native chefs and each place takes pride in serving diners with excellent cuisine. Restaurants along this road not only offer authentic dishes, but also have selections on the menu more tailored to the tastes of Koreans and international travelers. The superb cuisine and distinctive interior design of each restaurant offers visitors a unique dining experience that can only be found in Itaewon.
Leather & Fur Goods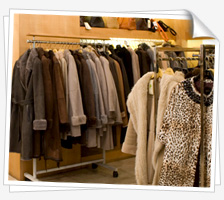 Itaewon is famous for leather and fur goods and has long since enjoyed a reputation as a must-visit location for international tourists looking for quality leather or fur goods at reasonable prices. Located in the middle of Itaewon, North Beach is a five-story building that is one of the largest shops in Asia specializing in leather goods. At the store, customers can arrange shipping and order customized products. An outlet store, First Avenue, near North Beach offers leather goods at prices a little lower than those at North Beach. Across First Avenue toward the Itaewon Market, customers can find 'Italiana', which has been offering some of the best leather goods (including washed vintage-styles) for over 30 years.
Big & Tall Size Clothes
Unlike many other shopping areas in Korea, Itaewon has many stores that sell big and tall sizes for men and women. Prices for large-sized items are about 10 to 15% more expensive than smaller sizes.
Islam in Korea: Seoul Central Masjid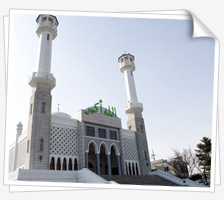 Regardless of your personal religious beliefs, a visit to Korea's first mosque 'The Seoul Central Masjid' in Itaewon toward Hannam-dong is well worth a visit. The mosque was built in 1976 through the combined efforts of the Korean government, who donated the land, and Islamic countries, who footed construction costs. As an accurate representation of Islamic architecture, the Seoul Central Masjid is not only a gathering place for Muslims, but has also attracted the attention of international tourists interested in Islamic culture. Worship services start daily at 5:40 a.m., with five more services held throughout the day (each service lasting 15 minutes). The mosque houses offices and an educational center for Muslim children and is surrounded by stores selling Islamic meat and processed foods prepared according to Halal standards.