Travel back through the Ages with a Visit to Namdaemun Market
For over 600 years, Namdaemun Market has served countless customers, bearing witness to radical changes throughout Korea's history. As one of the most beloved markets in Korea, it offers international tourists a chance to experience the old-world charm of the traditional marketplace, a spirited atmosphere difficult to find anywhere else.
Ever Heard of "Namdaemun Carriers?"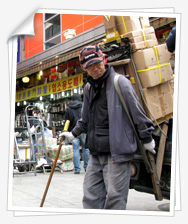 Namdaemun Market may very well be the last place to see Namdaemun Carriers. This term refers to the people who used a big, A-shaped wooden device strapped to their backs to carry big loads of goods for the wealthy women of the Yangban class (Korea's noble class). Beginning in the Middle Ages, the carrier's A-shaped wooden harness was an essential part of Korea's agricultural society, used for the transportation of firewood, crops, or fertilizer. Even just a few decades ago, these types of devices were still the favored method of carrying merchandise to and from Namdaemun Market; there was no easier way to carry heavy loads up to stores located on the fourth or fifth floor. Carriers also helped customers with packages that they may have had trouble carrying themselves, often delivering packages to nearby bus stops or taxi stands. In recent years, the number of carriers has declined because of the emergence of professional delivery agencies, and only elderly carriers can now be seen in Namdaemun Market. Even though carriers are becoming few and far between, their continued presence attests to the important part they have played in Korea's past.
Pig Heads Abound!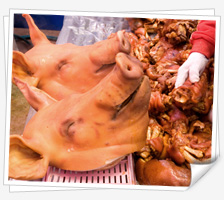 One of the most striking features of the traditional Korean market is the plethora of eateries and food stalls that line the streets. Namdaemun Market boasts an impressive array of mouth-watering snacks that is sure to tickle the fancy of Koreans and international tourists alike. Main items include sundae (steamed pig or cow's intestines stuffed with various ingredients), janchi guksu (a banquet noodle dish), bibimbap (rice mixed with vegetables and beef), and seolleongtang (soup from the bones of an ox). Boiled pork head meat is a key ingredient in a number of wildly popular marketplace specialties, including: sliced boiled pork, roasted pork head meat, and a soup containing boiled pork. Traditionally, pigs are believed to be the bearers of fortune (both monetarily and otherwise) and are often given a place of honor on the table during special occasions. In fact, many people visit the market specifically to buy whole pig heads to serve as symbols of good luck at their own important get-togethers
Pre-wedding Shopping Spree
Namdaemun offers plenty of shops specializing in wedding products. "Honsu" refers to the household products/items that couples need to prepare before they get married. Shops specializing in wedding-related items have a selection of wedding presents (to give to the parents of the bride and groom), kitchen utensils, dish sets, comforter sets, and so on. There are also a variety of traditional items such as hanbok (Korean traditional clothes) and gifts to present to the groom's parents. While some people prefer to purchase honsu in department stores or professional wedding shops, most people visit Namdaemun Market because it's the best place to get quality wedding items at reasonable prices. Visitors to this section of the market will not only get a peek into the traditional Korean wedding culture, but will also frequently encounter blushing brides-to-be browsing the shops with their mothers.
Voice of the Traditional Market: The Scenery of Street Stalls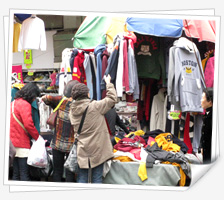 "Pick! Pick! Everything Samcheonwon (3,000 KRW)!"
Everywhere you look, you'll see vendors calling out to potential buyers, yelling and waving, trying to engage passersby in the playful haggling over wares. The streets of Namdaemun are packed with vendors selling inexpensive clothing, bags and accessories heaped up on their pushcarts. T-shirts cost 3,000 KRW or, at most, 5,000 KRW and you'll rarely see pants for over 10,000 KRW. Crowds of bargain hunters gather around the carts with the best prices, frantically digging through the items to find their favorite things. Even visitors who aren't looking to buy often come by just to experience this indescribable scene. Oddly enough, the Shinsegae Department Store is only steps away from the street vendors: a posh high-end department store that serves as a reminder of Korea's unique ability to embrace the new while preserving tradition.