From Skin Consultation to Products for Your Skin Type
Our foray out into the Myeong-dong world of cosmetics led us to Amore Pacific, a major Korean cosmetic brand with over 80 years of history. Items fall into 4 major product lines, subdivided into 12 smaller lines ranging from basic skin care items to anti-wrinkle, whitening, moisturizing, and lifting products, making for almost innumerable combinations. How can someone possibly choose from such a wide selection?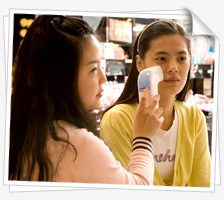 1. Skin Counseling System
Before you purchase any products, it's absolutely essential to find out about your skin, down to the last detail. In order to do this, the shop employs 'Skin Touch,' a skin diagnosis program that breaks down visitors' skin type and skin health on a monitor. Visitors can see the hydration levels and of the different parts of their face, their pores, and blemishes. Once a skin diagnosis is done, the shop's skincare professionals will help you select which items are best for your skin type.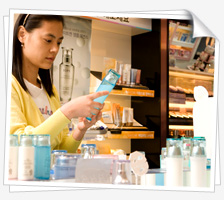 2. Products According to your Skin Type
While we were there, one of our writers decided to get her skin diagnosed. She was surprised to hear that her skin needed a 'lift' even though her skin had balanced moisture. The shop assistant recommended that she use anti-wrinkle and lifting/firming items as a supplement to her basic skincare. The shop assistant also added that our colleague might want to look at whitening items since the summer season was approaching. We were also advised that the best way to heal dry skin was to apply nutritional products and hydration cream before sleeping.
3. Looking for Basic Skincare
No woman is completely satisfied with her skin. After voicing some of our major complaints, the beauty shop offered us pore-minimizing items to narrow our seemingly ever-widening pores. The shop assistant told us that the products consist of two steps: deep cleansing serum and scrubber to remove oil and dead skin cells for Stage 1, and a skin-tightening essence as Stage 2.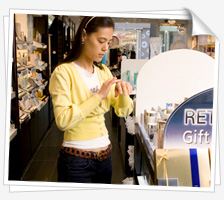 4. Try Before you Buy
Associates also showed us the abundance of testers available that allow visitors to sample products before purchasing them, stressing that visitors should only buy items that they feel good about.
(Sponsored by Aritaum at Myeong-dong)

* Many cosmetic shops in Myeong-dong employ shop assistants capable of speaking foreign languages such as English, Japanese, and/or Chinese.
Skin Therapy Using Hanbang (Oriental Medicine)

Hannule Jeong (literally 'Hannule Pavilion') located on the second floor of Aritaum, offers professional skin therapy services using hanbang (oriental medicine) that focus on boosting skin health through stimulating and restoring internal energy and blood flow. Each service in Hannule Jeong begins with a foot bath using medicinal herbs such as garlic, ginseng, mugwort, and pine mushrooms that are produced in Korea and are said to be superior to imported ingredients that have no verifiable certifications. Among the many services offered in the shop, two services called 'Renewal Care' and 'Extreme Care' are the most popular packages among both Korean and international visitors. 'Renewal Care' focuses on restoring skin's vitality, while 'Extreme Care' is a full-body therapy program that lasts for two and a half hours. The shop's interior is decorated with cosmetic items and medicinal herbs and offers a nice lounge where visitors can drink tea while waiting their turn. Hannule Jeong is far from 'just another store'; it is a luxurious, healthy experience for both the mind and the body.

- Hannule Jeong (Myeong-dong Branch)