Hanok Village, Breaking the Mold
The Hanok Village in Samcheong-dong is filled with inviting cozy stores housed in restored hanok (traditional Korean houses). Each store has its own individual style and energy, making the area anything but just your typical shopping place. Keep reading for a closer look at two of the town's many unusual and lovable stores.
【G:ru】: Taking a Stand for Honesty and Integrity
Located in a sunny alley, [g:ru] is a clothing shop whose name refers to the unit for counting trees in Korean. The traditional building has taken up residence in one of the area's representative hanok and even has its own mini flower garden. [G:ru] specializes in handmade clothing using natural fabrics woven from cotton, wool, silk or hemp. Its owner boasts that it is the first Fair Trade shop in Korea.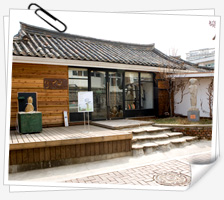 Fair Trade is a global social movement that seeks to minimize the role of the middleman and improve the working conditions of producers in developing countries by paying producers higher wagers and advocating social programs. In doing so, Fair Trade directly connects producers and customers and provides quality products at affordable prices. The system also helps protect the global environment, as worker learn ways in which to use the land in a more eco-friendly, sustainable way. Every clothing item in [g:ru] is a certified Fair-Trade product. Handmade, naturally-dyed clothing with environment-friendly fabrics fits the bill of the sweeping focus on well-being in recent years.
According to the shop's owner, clothing with the same high-quality fabrics, stitching, and designs sold in [g:ru] would sell for ten times as much in the department stores. The owner continues by saying that paying a higher price to producers for their honest labor is a matter of principle and that it's crucial to globalize the fair trade movement, not only from a human rights point of view, but an environmental one. With this in mind, some see buying Fair-trade products (like those in [g:ru]) 'responsible consumerism.'
Aside from clothes, [g:ru] sells a variety of accessories and other knickknacks.

Yeon: a Café for Travelers Decorated by Travelers
Yeon is a charming café in Samcheong-dong. As a remodeled hanok, the grounds still include the original courtyard and a platform on which traditional jars used to be placed. The traditional ondol (Korean floor heating system) structure and traditional attic are still intact, so customers can take off their shoes and enjoy relax with a cup of tea while sprawled out on the heated floor.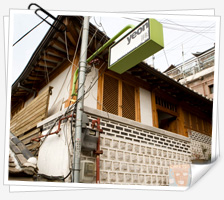 The owner of Yeon has traveled to more than 30 countries in ten years and opened the café with fellow travelers in mind. The inside of the café is adorned with baubles hailing from all across the globe. There are also contributions/gifts from fellow travelers, like the photos given to the owner by Italian photographer friends. Other walls serve as galleries showcasing the owner's collection of international artwork.
The café is known for its traditional teas as much as for its unique interior design. These teas are grown by the owner's grandmother, who is famous locally for her skillful flower arrangements and extensive knowledge of tea culture. Coffee, alcohol, and other drinks are also available, as well as some specialty drinks and desserts from other countries that come from the owner's own travel experiences. These products can are not easily found anywhere else.
The café boasts a cozy atmosphere due in part to the time-honored warmth of the traditional Korean hanok. The word Korean word 'inyeon,' from which the café gets its name, originally referred to a catalytic force, but has come to stand for the 'relationship' or 'bond' between people. It's not often that you find a place so aptly named.