Galleries in Insa-dong: Abundance of Traditional Culture and Art
Art inclined visitors looking for galleries and exhibitions in Seoul will hit the jackpot with a trip to Insa-dong. Over 60 galleries are tucked along the street, showcasing traditional culture, crafts and painting masterpieces. Each gallery has its own special character. Keep reading to learn more about some of the pleasantly quirky, stand-out galleries of Insa-dong.
Kyung-In Museum of Fine Art: Art, Teas, and Trees

Kyung-In Museum of Fine Art represents the best of what Insa-dong has to offer. It consists of a traditional tea house, five separate exhibition halls housed in hanok (traditional Korean houses), a studio/workroom and an outdoor exhibition hall. Since its opening in 1983, Kyung-In Museum of Fine Art has been a landmark in the Insa-dong art world, exhibiting a diverse selection of paintings, sculptures, photography, and modern art all year round. A walk in the garden or a drink of one of the delicious traditional teas in this magnificent museum is sure to capture the heart of tourists and art lovers alike.
Tong-In Store (Gallery & Store): from Exhibitions to Auctions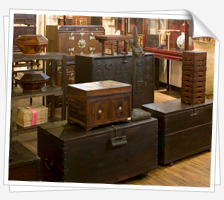 For over 85 years, Tong-in Store has been a main attraction in Insa-dong. It started as a gallery specializing in antique art and has since expanded its collection to include both traditional and modern pieces. Though most works, if not all, are available for purchase, it's also a great place to just browse around and learn a little about the evolution of art in Korea. On the first floor, visitors will find ceramics and modern crafts by world-class artists, all of which are available for purchase. The second floor houses exquisite celadon, mother-of-pearl lacquerware, folk crafts, and souvenirs. The third floor is home to a collection of traditional Korean furniture, while the fourth floor hosts antique art. Antique Korean crafts such as Goryeo celadon(porcelain), Joseon white porcelain, folk paintings, and antique books are displayed and sold through auctions.
Sun Gallery and Art Center: A Forerunner in Modern Art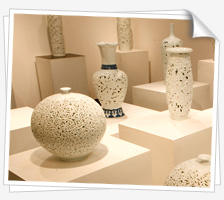 Established in 1977, Sun Gallery and Art Center has been a leader in high-quality modern art for over 30 years. The Gallery not only showcases the works of famous Korean artists, but also the masterpieces of international artists such as Marc Chagall, Emile-Antoine Bourdelle, and Magnum. The Sun Gallery and Art Center has had a huge impact on the modern art community by publishing its own art magazine, establishing a prestigious art award, and participating in art fairs around the world. In 2003, the facility's exhibition space was expanded with the addition of a fifth floor and a basement. The five spacious exhibition halls house dazzling displays of paintings, prints, sculptures, crafts, and more.
Mokin Museum & Gallery: Mysterious and Intriguing Asian Wooden Sculptures

Insa-dong is home to various galleries centered around themes, such as 'knives', 'teas', or 'dolls'. Mokin Museum & Gallery is a popular themed gallery housing an impressive array of intriguing Asian wooden sculptures. The word 'Mokin' refers to wooden sculptures based upon human and animal shapes. Wooden sculptures from various Asian countries such as Korea, Japan, Nepal, the Philippines, and Tibet reflect the diverse history, religion, and daily life of each country. While walking through the gallery, visitors will encounter amusing, mysterious, or sometimes even bizarre sculptures. The basement section of the facility is a visitor's lounge, while the first and second floors house the gallery and museum. Visitors are also allowed access to the rooftop which serves as both an open-air gallery (decorated with Korean pottery and stone figures) and a place to enjoy the view while drinking complementary tea provided by the museum.