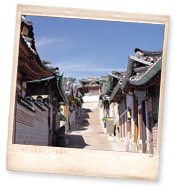 Seoul is a fascinating place where tradition and modernity exist harmoniously, and there's no better way to start exploring this interesting dichotomy than with a visit to the Bukchon Hanok Village.

Located to the north of the royal palaces, the Bukchon Hanok Village was the home of the noble class during the Joseon Dynasty. A number of beautiful traditional Korean houses from this era still remain today.

Take a map in your hand and take your time wandering throughout the village to explore everything it has to offer. Each turn unfolds in a new series of delights; visitors are sure to be captivated by the gorgeous architecture, museums, and galleries hidden throughout the web of alleyways in Bukchon.

Bukchon Cultural Center
Open to the public free of charge, the center gives visitors the opportunity to experience traditional Korean culture and provides local tourist information.

Owl Art & Craft Museum
View an impressive display of over 2,000 owl-related items hailing from 80 different countries. Finish off your tour around the museum with a savory cup of tea, free of charge.
(Exhibition hours: 10:00-19:00 / closed on Mondays / entrance fee: ₩5,000, includes tea)
How to Get There
Approximately 300m from Exit #2, Anguk Station (Subway Line 3)