17:00- Myeong-dong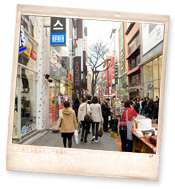 Myeong-dong kicks into full swing as people start getting off from work. The area is an immense shopping district full of top-notch department stores, shopping malls, and all kinds of shops selling clothing, accessories, and cosmetics. Visitors can find virtually every international and Korean cosmetic brand imaginable. There are also plenty of restaurants throughout Myeong-dong that give visitors seemingly endless dining options.

Myeongdong Cathedral
A major Roman Catholic cathedral in Myeong-dong and the first Gothic cathedral in Korea

How to Get There
Exit #6 or 7, Myeong-dong Station (Subway Line 4)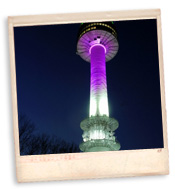 Not far from Myeong-dong, located right in the heart of Seoul is scenic Namsan Mountain. Equipped with various amenities and graced at the top with an observatory, it is a wonderful spot to catch a bird's-eye view of the sprawling cityscape of Seoul. When the weather is clear, N Seoul Tower affords a view not only of Seoul, but also the coastline of Incheon, the city to the west of Seoul. Many visitors ride the cable car up to N Seoul Tower and walk down again along the mountain trail, enjoying the scenery of Seoul and Hangang River as they go.
(N Seoul Tower entrance fee: ₩7,000)
How to Get There
Get on the Namsan Cable Car ((Namsan Cable Car located approximately 510m from Exit #3 of Myeong-dong Station (Subway Line 4))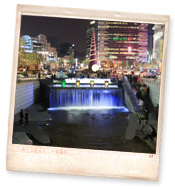 Walking along the banks of Cheonggyecheon Stream is a favorite activity for tourists and locals alike. Flowing along for over 5.8km, the stream cuts right through the middle of Seoul, providing a quiet, scenic escape. Colorful sculptures and eco-friendly landscaping only add to Cheonggyecheon's quiet beauty

Following the pathway alongside Cheonggyecheon Stream, it is only 2.4km (40 minutes) from Myeong-dong to Dongdaemun Market.
How to Get There
Take Namsan Sunhwan Shuttle Bus # 3, get off at the Namdaemun Market (roughly eight minutes), and walk approximately 920m toward Cheonggyecheon Stream (15-minute walk).


22:00- Dongdaemun Market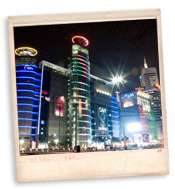 Dongdaemun Market is a shopping place right next to Cheonggyecheon Stream that is well known for its night shopping. Usually open 24-hours, Dongdaemun Market carries fashion items such as clothing, shoes, bags, and accessories for both retail and wholesale purchase. The market gets even busier as the clock strikes midnight. In addition to colorful performance events and a wide variety of merchandise, the market is famous for the delicious Korean snacks sold at its street stalls. International visitors intending to shop in the market after midnight may want to use international call taxis (1644-2255), as public transit services stop running around 11:30pm.

How to Get There
1. Walk along Cheonggyecheon Stream, take the stairs at Ogansugyo Bridge toward Dongdaemun History & Culture Park, and walk for 250m (5-minute walk)
2. Take the subway at Gwanghwamun Station (Subway Line 5), get off at Dongdaemun History & Culture Park Station, and exit through Exit #14