12:00- Jagalchi Market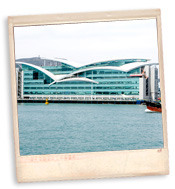 The Jagalchi Market is the heart and soul of Busan. As the most famous seafood market in Korea, Jagalchi Market is full of merchants and customers and, of course, fresh seafood. The market is abuzz with people chatting in strong Busan dialect, adding an extra bit of flavor to the already vibrant marketplace feel. On the first floor of the market, visitors can pick out their own seafood and watch merchants clean their purchases right in front of them. On the second floor, there are scores of sashimi restaurants featuring dishes made with only the freshest seafood.

How to Get There
Take Bus No. 30 at Taejongdae and get off at Nampo-dong (40 minutes, roughly 21 bus stops)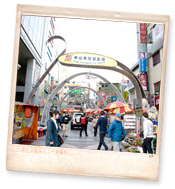 Near Jagalchi Market, PIFF Square in Nampo-dong is the main stage of the Pusan International Film Festival (PIFF). PIFF Square is not only the stage for numerous international film events, but also hosts a variety of interactive events for visitors.
How to Get There
300m from Jagalchi Market (6-minute walk)


15:00- Nampo-dong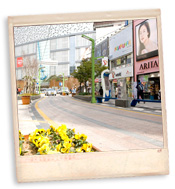 Nampo-dong is home to excellent theaters, shops, and restaurants. Wildly popular among young people, Nampo-dong is one of the busiest shopping areas in Busan.

How to Get There
Next to PIFF Square


17:00- Gukje Market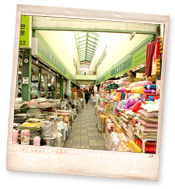 Nampo-dong is near Gukje Market, the largest traditional market in Busan and the largest market in Korea in terms of the volume of distributed goods. Gukje Market was formed in the aftermath of the Korean War as refugees began their own makeshift marketplace. The market has since become a major center of commerce.

There are many restaurants and street vendors in Gukje Market. Meokja (Restaurant) Street, in particular, sells delicious Korean dishes such as chungmu kimbap (rolls made of seaweed and rice, served with pickled radish and spicy boiled squid), tteokbokki (spicy rice cake stew), and danpatjuk (sweet red bean soup).

How to Get There
Approximately 400m from Nampo-dong to the north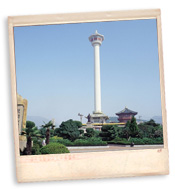 Yongdusan Park is another tourist attraction in Busan. Located near Gukje Market, Yongdusan Park is surrounded by lush pine trees. Busan Tower (120m-high) in the middle of the park offers visitors beautiful night views of Busan city.
How to Get There
Walk approximately 800m from Gukje Market (20-minute walk) and take the escalator from Gwangbok-dong up into the park