Purchasing Tips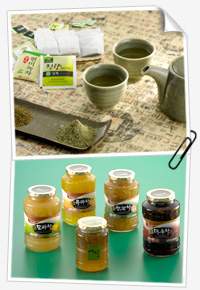 Green tea is best when its leaves look thin and glossy and are well-dried. There are a wide variety of green tea products sold in the form of powdered tea, teabags, or whole leaves. Green tea is also sold in cans or bottles.

Traditional teas such as citron tea and ginger tea are sold as liquids, extracts, or in teabag form. They are available in nearly every grocery and convenience store.
Storage of Green Tea
Green tea needs to be kept in an airtight container in a cool place at a consistent temperature. It should not be refrigerated since it has a tendency to absorb moisture and odors. For optimal flavor, green tea should be consumed within a year of purchase.