Purchasing Tips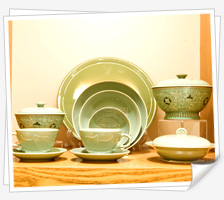 When purchasing pottery, it is important to consider thickness and weight to ensure the pottery will hold up to its intended use. However, it's often better to believe in your own sensibility when purchasing pottery for decorative or gift purposes. Good pottery looks clean with no coarse patterns. Its surface should be smooth with no nicks or cracks. Sounds can also help choose good pottery. A bell-like sound typically signals extremely high-quality ceramic pieces, but a dull sound is better when choosing bowls or pots for daily use, as these pieces may be more durable.
Care Tips
Pottery is very fragile and can be broken if handled improperly. Use two hands when handling pottery: one hand on the upper part and the other hand holding the bottom part. Pottery can fall or slip if you only grab the sides. Wash your hands if necessary so as not to leave residue or fingerprints on the pottery. When cleaning pottery, use soft fabric or a sponge and a very mild soap with warm water. Pottery is kept best around 20°C and humidity below 45%.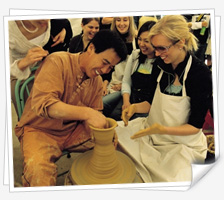 Pottery Festivals
Pottery festivals are frequently held in famous craft towns such as Icheon, Yeoju, Mungyeong, and Gangjin during spring (April to May) and fall (September to October) when traveling is pleasant. The following websites provide information on various pottery festivals as of 2010.
• Icheon Ceramic Festival
• Gwangju Royal Ceramic Festival
• Ceramic Festival Yeoju
• Mungyeong Traditional Tea Bowl Festival
• Gangjin Celadon Festival
• Onggi Expo Ulsan
• Ceramics Festival of Gimhae