Shelf-life of Soju and Makgeolli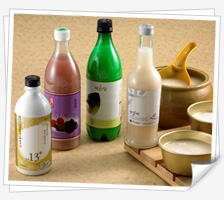 Because soju is a distilled beverage with a high proof and no added organic ingredients, it doesn't have a specific expiration date. It is sold in glasses, bottles, or packs.

Makgeolli is also sold in glasses, bottles, cans, or packs. Makgeolli sold in the market consists of saeng (un-sterilized) makgeolli and salgyun (sterilized) makgeolli. Customers are advised to carefully note the expiration dates of the different types of makgeolli.


In the heating process of making Salgyun makgeolli the naturally-occurring microorganisms found in the liquid are eliminated, significantly extending Salgyun makgeolli's shelf-life. The process also removes any carbonic acid, giving the drink a mild and smooth taste.
• Saeng makgeolli has a shelf-life of roughly ten days. Unless refrigerated, fermentation continues to occur, giving saeng makgeolli a vinegary taste if consumed after its expiration date. Customers taking makgeolli abroad should purchase salgyun makgeolli instead of saeng makgeolli.

- Shelf-life of saeng makgeolli: ten days when refrigerated below 10°C.
- Shelf-life of salgyun makgeolli: about six months