Renting Hanbok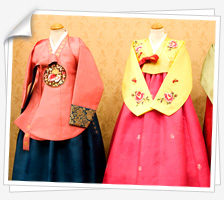 Hanbok can be very expensive, so most hanbok stores make hanbok available for rent in addition to purchasing. Visitors should inquire whether they are able to borrow shoes or ornaments along with hanbok.

The Insa-dong Tourism Information Center is a good place to rent a hanbok or take pictures while wearing hanbok. Visitors can also experience wearing hanbok in such places as the Lotte World Folk Museum and Insa-dong Guest House.
Purchasing Tips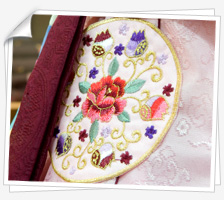 Hanbok are typically custom-made. It can take a couple of weeks to make hanbok after choosing fabrics and taking measurements, but ready-made hanboks are also available for time-constrained customers and visitors. When choosing a hanbok, visitors should consider the colors or fabrics that suit them best.

For those who prefer a less traditional look, there are also a variety of "modified hanbok" on the market. They are not only easy to wear, but also easy to wash and maintain. Many stores in Insa-dong sell modified hanboks.
Hanbok Souvenirs
Miniature dolls wearing hanboks are popular souvenirs. Typical dolls depict a bride and groom, a king and queen, or playful children. Other souvenirs include aprons and daily use items decorated with hanbok patterns. Cards, bokjumeoni (Korean lucky bags), beoseon (Korean traditional socks), sachets, and mobile phone accessories are some of the most popular items that are made using hanbok designs. Handmade hanbok frames or wine covers are excellent souvenirs for either gifts or decorative purposes.