Types of Available Gochujang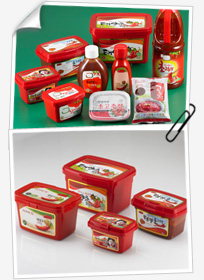 Gochujang is sold either in a plastic tub or a tube in portions varying from 200g to 2-3 kg. Some manufacturers offer products that have different degrees of spiciness, usually with the categories: mild, slightly hot, moderate, very hot, or extremely hot.

There are different types of gochujang, too. For instance, "fried gochujang with beef" is used for bibimbap and chogochujang (gochujang with vinegar) is used to flavor sliced raw fish or bibimguksu. If you aren't sure which product is right for you, ask a sales assistant.
Expiration Date and Storage
The average expiration date of gochujang sold in the market ranges from 12 to 18 months. It needs to be stored in a cool and dry place and must be refrigerated after opening.