Types of Gim Sold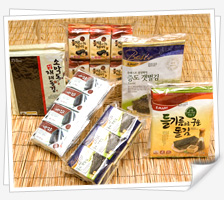 Types of Available Gochujang
Gim is sold both raw and cooked. Sheets of gim vary from those that are roughly the size of A4 printer paper to very small, snack-sized packages. Smaller sizes of gim are available for lunch boxes (5g) and table use (20g). Gim products that are marketed as 'lunch box gim' are sold in a set of 6-16 individual packages.

The available types of gim also vary according to type, including the standard Dol-gim and Jaerae-gim and parae-gim. For an extra healthy twist, shoppers can even find products such as green tea gim or bokbunja (black cherry) gim. Customers can choose gim seasoned with different oils: olive oil, sunflower seed oil, brown rice oil, and more.
How to Choose Tasty Gim
Good gim doesn't have any blemishes. Its color must be translucent, black and glossy. When roasted, fresh gim will turn a dark green.
Storage
Gim is particularly susceptible to moisture. To store gim for a long time, it needs to be wrapped in paper or newspaper, placed in a container, and stored in the freezer.
Expiration Date
The average expiration date of gim sold in the market is about 6 months. Because gim easily absorbs moisture, it needs to be eaten as soon as it is opened.