Visitors purchasing clothing in Korea need to be aware that their sizes may be different from those in their own countries. For example, a 'medium' in America is not always the same as a 'medium' in Korea. Customers can bargain with merchants in most shops, except in department stores or brand name stores. The following provides a few tips that international visitors need to consider when purchasing clothing items in Korea.

Clothing Sizes
Korean clothing is typically sized two ways: either 'small, medium, large' or '85, 90, and 95.' Some women's clothing may be sized '55, 66, and 77.' Visitors from European or North American countries may want to purchase items one size larger than they usually do. Visitors from Japan, China, and other Asian countries may not find clothing sizes all that different from those in their own countries. Shoes are sized according by the nearest millimeter. 250 mm, for instance, is roughly a 6.5 in the United States and a 37.5 in European countries.
Please note that the size of clothes in non-brand shops tends to be smaller than those in name brand stores.
Large-sized Clothing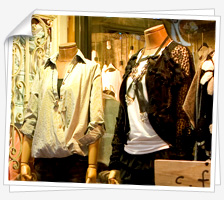 Visitors who are having trouble finding their size elsewhere may want to visit Itaewon. With a long history of serving international residents and visitors, Itaewon is home to many shops that have larger sizes or even specialize in plus-size clothing. Visitors can also find large sizes at Dongdaemun's Jaeil Pyeonghwa and Gwanghee Market or at Doota, a giant shopping mall the has over 20 large-sized clothing shops in its lower levels.
Trying On Clothes
Most clothes can be tried on before you purchase them (except for sweaters and other things that may stretch), but policy varies from store to store. It's a good idea to double-check with a sales associate before trying anything on. Shoes and accessories can usually be tried on too.
Returns and Exchanges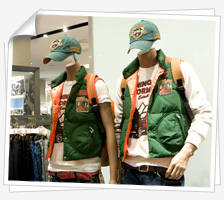 Unlike shops in department stores or brand name stores, non-brand shops may not permit returns. International visitors are advised to examine items carefully before purchasing.
Many shops in shopping malls tend to look almost exactly the same in design and layout, so it may be easy to forget where you've purchased something. Be sure to pick up a business card on your way out just in case you need to visit the store again for exchanges, returns, or to do more shopping.
Pricing
The final price of clothing may very well vary depending on how well customers can bargain with merchants. Clothing items are generally inexpensive in Dongdaemun Market because items do not undergo retail markup.
Although bargaining may be acceptable at shopping malls and in many non-brand stores, customers shopping at department stores or brand name stores should stick to the ticket price.