How to Choose Good Ginseng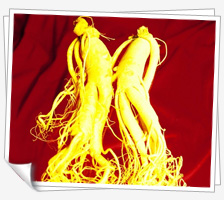 When choosing ginseng, look for mostly-symmetrical ginseng with smooth 'legs,' and tight ivory. Good ginseng is somewhat slim with 2-3 thick roots and a number of well-developed fine roots stemming off from the main body. The fine roots are abundant in saponins and are mostly responsible for ginseng's reputation as a natural energy booster. The body of ginseng must be tight with no red or black spots.
Certification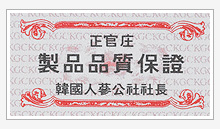 Except for about 20 companies (such as Jeonggwanjang, Cheonjiyang, and Hansamin) which have their own management system, non-processed ginseng must go through the Ginseng Inspection Office, Nonghyup, and needs to get an inspection certificate before being sold in the market.
Ginseng Products
There are a variety of ginseng products on the market. Customers can purchase hongsam in liquid form, extracts, capsules, or tablets. Ginseng can be sold as preserved ginseng or in the form of rice cakes. Ginseng tea, chocolate, candy, or jelly is available in many stores.

Even cosmetics are often made using ginseng. Known as the preferred skin treatment of Hwang Jini (the celebrated beauty of the Joseon Dynasty), ginseng soaps or facial masks are popular among young women.