Types of Kimchi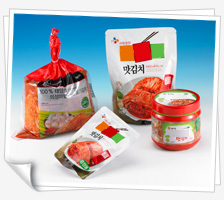 A variety of types of kimchi are readily available and can be purchased in sizes ranging anywhere from 80g to 10kg. Some shops even sell kimchi that is made on-site. When purchasing kimchi, customers need to make sure that the kimchi is not leaking and that it is wrapped tightly.
Transporting Kimchi Overseas
Travelers need to be aware that each country has different standards regarding the transport of food. Some countries do not allow kimchi to be brought through customs. Other countries permit tightly-packed, commercially-available kimchi, but not hand-packaged kimchi.

Kimchi ferments quickly at high temperatures so travelers planning to take kimchi with them on their trip should place well-packaged kimchi in the refrigerator prior to departure. Once opened, kimchi should be eaten as soon as possible.
Quality Certification
Kimchi certified by the HACCP or the Korean Traditional Food Quality Certification can be much safer than uncertified brands.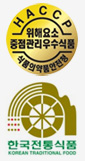 • HAACP (Hazard Analysis and Critical Control Points): a management system in which food safety is addressed through the analysis and control of biological, chemical, and physical hazards from raw material production, procurement and handling, to manufacturing, distribution and consumption of the finished product.
• Korean Traditional Food Quality Certification: a government-guaranteed system assuring the quality of Korean traditional food items (including manufacturing and processing)
Expiration Date of Kimchi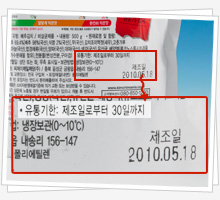 Kimchi products may be stamped with one or two of the following types of dates.
• Sell by Date: refers to the final date by which kimchi must be sold.
• Best Before Date: refers to the final date by which kimchi maintains its high quality.
※ Kimchi can last well past the expiration date, if stored properly
Expiration dates may vary according to type, brand, and/or quality
Online Shopping Malls for International Customers
- Korea Post Shopping (Korean, English, Japanese)
Famous local produce in Korea is available for shipping abroad. The only kimchi available for international shipping is Yeosu Dolsan Gat Kimchi (leaf mustard kimchi)