Delicious Flavor, Meticulously Prepared: Korean Traditional Snacks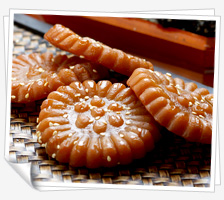 Since ancient times, Korean traditional snacks (sweets and rice cakes) have been an appetizing and crucial part of Korean cuisine, coming out into the limelight on special occasions such as weddings, birthdays, and memorial services.

The creation of these traditional snacks is largely thanks to the wisdom of Korean culinary forerunners in choosing the right ingredients for various recipes. There are hundreds of traditional snacks, made using a variety of ingredients and cooking processes and prepared with the utmost of devotion and care.

With the increasing interest in one's well-being in recent years, Korean traditional snacks are gaining acclaim not only in Korea, but worldwide.
Irresistible Chewiness: Tteok (떡, Rice Cakes)
In Korea, rice cakes can be snacks or main dishes. Rice cakes usually have some sweet filling inside or sweet covering outside. The tradition of rice cakes dates back three thousand years with over 200 varieties of rice cakes still in existence in Korea.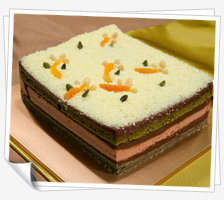 Rice cakes convey special meanings to Koreans. Koreans eat rice cakes when praying for a prosperous year, good health, long life, or when warding off misfortune. Tteokguk (떡국, white rice cake soup), eaten on New Year's Day, reflects a wish for good health and happiness. Songpyeong (송편, crescent-shaped rice cakes), eaten during Korean Thanksgiving, demonstrate deep respect for one's forefathers.
As the Korean saying goes, 'good-looking rice cakes are delicious rice cakes.' Pretty rice cakes with a wide range of flavors have captured the interest of not only young people in Korea, but have won the hearts of countless international fans. Numerous cafés or restaurants specializing in rice cakes have popped up in places such as Insa-dong and Myeong-dong.
Rice cakes do not contain any artificial additives and boast natural fillings such as pumpkin, chestnut, or jujube. They are good for digestion and, because of their low calorie content, are wildly popular among the calorie-conscious. A wide variety of rice cakes have even been developed with the international rice cake aficionado in mind: rice cakes that are crispier or sweeter than their traditional counterparts. Some delicious new adaptations of old-style recipes are tteok cake, rice cake sandwiches, fruity rice cake and more.
Traditional Confectionery: Hangwa

Hangwa (한과) is the Korean traditional confectionery, made from flour combined with honey, sugar, or taffy. Depending on the individual recipe, hangwa can have a variety of shapes, flavors, and textures. Yugwa and yakgwa are the main types of Hangwa.

Yugwa (유과) is an absolute must-have for special occasions or memorial ceremonies. Made by deep-frying sweet rice flour and grain syrup, yugwa is a delicately-prepared sweet that is often crispy on the outside and smooth on the inside. Yakgwa (약과) is made by frying a mixture of wheat flour, honey, and sesame oil. These glossy cookies were the signature snack of royal families during the Goryeo Dynasty (918∼1392).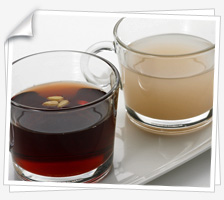 Because Hangwa uses natural ingredients, they are an excellent source of nutrition. The main ingredients include grains, honey, chestnuts, jujubes, pine nuts, sesame, and walnuts.
Traditional Snacks Coupled with Traditional Tea
Rice cakes and traditional snacks are even more delicious when paired with traditional teas such as green tea, citron tea, quince tea, or Chinese matrimony vine tea. Sikhye (식혜, sweet rice drink) or sujeonggwa (수정과, persimmon punch) are other favorite drinks that accentuate the delectable flavor of Korean traditional sweets.