Form and Function at its Finest
"Show me the Goryeo Celadon!"
During the Goryeo period (AD 918-AD 1392), Arabian merchants highly regarded Goryeo Celadon along with ginseng as top trade items. Korean pottery is still at the top of the wish list for international visitors to Korea.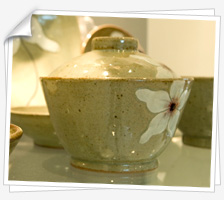 Dojagi ("pottery" in Korean) is a compound noun of the words "dogi" (earthenware) and "jagi" (porcelain). In Korea, pottery is divided into four types: porcelain, earthenware, stoneware, and clayware. Internationally, however, Korean pottery usually falls into the categories of Goryeo Celadon, Joseon White Porcelain, and Green Celadon (stoneware with a bluish-green tone called "Buncheongsagi").
It is often said that pottery reflects the culture in which it is made. Goryeo Celadon, for example, emphasizes the beauty of simple colors and combines functionality with bold design concepts. Korean pottery was used not just for decoration, but was also a critical part of daily life. This balance of aesthetic beauty and high functionality in Korean ceramics is something that is still treasured by Korean artists and art lovers the world over.
The Process of Making Pottery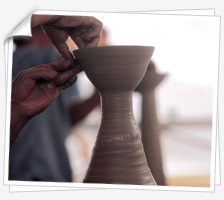 Making pottery is a long, laborious process. After the clay is gathered and let sit for awhile, a small lump is taken out and wedged to even out the moisture and get out any air bubbles. (Air bubbles can cause pieces to chip or break in the kiln). The clay is then centered on the potter's wheel, shaped, and set to dry. Some artists also use hand tools to carve or further decorate their pieces. Once the pot is dry, it is bisque fired in a kiln and then glazed. The glazed pot is fired again to melt the glaze and fuse it to the clay. After that, the pot is left to dry for approximately two days. It takes meticulous work and ample time to get a finished product. However, greater effort leads to higher quality, which explains why Korean pottery is famous worldwide. Many places in Icheon and Yeoju (Gyeonggi-do) provide visitors with opportunities to watch and experience pottery-making.
Korean Pottery Patterns: Harmony with Nature
Korean pottery is often decorated with animals and plants: for example, a playful monkey or a dragon. Generally, patterns found on ceramic pieces reflect the manner or beliefs with which Koreans view nature.

Some patterns convey special meanings. Cranes and clouds symbolize longevity and nobility. Peaches signal one's wish for a long life. Lotus flowers carry with them a utopian meaning of a land of extreme happiness; seeds in the lotus flower are said to be bearers of abundant prosperity. Prosperity and abundance, in turn, are conveyed in many patterns depicting chestnuts, grapes and pomegranates. Carp patterns reveal one's wish for passing the demanding national civil service examinations (under the Goryeo and Joseon Dynasties) and for launching a successful career. Lovebirds indicate conjugal affection, while peonies mean wealth and honor. Stillness and solitariness are expressed in chrysanthemum patterns, which are believed to be characteristic of noble men. Willows, ducks, or ponds typically signal stillness and tranquility.