The Art of Traditional Korean Craftsmanship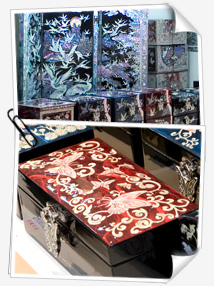 Korea has a long and proud history of excellence in arts and crafts, so there's no better way to remember your time in Korea than by taking home one of these lovingly-crafted, traditional pieces. Main items include najeonchilgi (mother-of-pearl lacquerware), woodcrafts, and hanji paper crafts.

'Najeonchilgi' is a traditional mother-of-pearl craft in which the beautiful patterns of shells are inlaid into wood and coated with a lacquer finish. 'Na' refers to shellfish with incandescent spiral shells and 'jeon' refers to carving and decorating an object with gold, silver, or bronze plating. The art of Korean mother-of-pearl lacquerware dates back to the Joseon Dynasty and the development of lacquer techniques.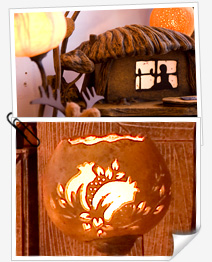 Hanji is made from the inner bark of the mulberry tree (called 'daknamu' in Korea), which is ground into a pulp, washed, and dried. It takes approximately 100 meticulous steps to produce hanji. Dolls, folding fans, or even cup holders are created using hanji. Some of the most popular hanji products are Hanji lamps, which have delicate designs and emanate a gentle glow of light. Daily use items such as fruit plates or tea tables using hanji are readily found in shops specializing in hanji crafts.
Wooden crafts reflect the beauty of nature and exude their own simple charm. Hahoetal (a type of Korean traditional mask) is the most well-known type of Korean woodcraft. Designated as National Treasure No. 121, masks are made of alder wood, decorated, and finished off with a coat of lacquer. Some popular wooden crafts include bride and bridegroom dolls, ducks, spoons and chopsticks.
Colorful Fiber and Chilbo Crafts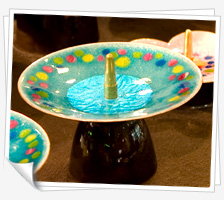 Fiber and chilbo (literally 'seven precious colors') crafts are also well-known crafts in Korea. 'Jogakbo' are Korean patchwork quilts that boast an exquisite harmony of color and design, and are decorated with fine embroidery. Typical embroidered patterns depict animals or plants and signal health, longevity, or blessing. Chilbo crafts involve applying various colors of enamel onto metal pieces, but they are also made using glass pieces, leather, or even paper. Jogakbo and chilbo are perfect for both daily use or to give as a gift.