Seoul has plenty of places for shopping, such as Myeongdong and Dongdaemun, but if you are passionate about fashion and looking for something hip and unique, then follow the example of Seoul's trendsetters and head south of the river to the affluent Gangnam areas. The places to head to are Garosugil street (the tree lined street) in Sinsa-dong, Cheongdam-dong area, and Rodeo street in Apgujeong-dong. Just by window-shopping and people-watching in these areas, your style is sure to be upgraded. In these upscale Gangnam areas, you can buy stylish clothes and enjoy a leisurely brunch in an open-air cafe. If you are lucky, you might also bump into some of Korea's celebrities here. Read on to discover all the stylish spots of Gangnam.

Garosugil street (the tree-lined street) in Sinsa-dong

As the Korean name implies (Garosugil means "tree-lined street"), this street is famous for the trees, which line both sides of the 700m-long promenade. In summer, the trees' luscious green leaves provide welcome shade for shoppers, and in autumn these ginkgo trees turn golden. This sophisticated, up-and-coming street is flanked with all sorts of trendy shops and European-style cafes. You can stroll along shopping at your own leisurely pace and then relax on café terraces with coffee and a tasty desert.
London Sole

London Sole is a shoe boutique that specializes in ballet flats. The boutique started in London and also has a branch in LA, where its fans include Hollywood celebrities such as Sarah Jessica Parker and Katie Holmes. The Seoul branch is located on Garosugil, where it's also become a favorite of Korean celebrities Song Hye-Kyo, Lee Na-young, and Chae Rim. The store's candy pink-colored exterior grabs your attention from afar, and its flat shoes have lovely original designs, which are made from the highest quality materials.

☞Location: Close to exit# 4 of Apgujeong station and exit# 8 of Sinsa station (Subway Line 3). On Garosugil street opposite Bloom & Gouté café.
☞Phone: +82-2-549-3695
☞OPEN:10:30-20:00
☞Homepage: www.fashionbliss.co.kr



EYE 11

EYE 11, run by a fashion designer, is well known for its unique and stylish clothes. At the store, shoppers can purchase various types of customized clothes such as T-shirts, dresses, and pants. It is also an interesting fact the store contains a designer's room, where the designer makes the clothes she sells.

☞Location: Close to exit# 4 of Apgujeong station and exit# 8 of Sinsa station (Subway Line 3).On Garusogil street, 10 m away from London Sole
☞Phone: +82-2-517-6595
☞OPEN: 09:00-22:30 / Close on every Sunday




Mogool

The ultimate hat store! This store has a wide selection of hats, it sells imported products as well as original designs by the owner. It is well worth visiting if you're looking for something unusual to complete an outfit.


☞Location: lose to exit# 4 of Apgujeong station and exit# 8 of Sinsa station (Subway Line 3) on Garosugil street, 20m away from Bloom & Gouté
☞Phone: +82-2-3445-6264
☞OPEN
Monday-Saturday 11:00-21:00/ Sunday 12:00-18:00
☞Homepage: www.mogool.co.kr


While shopping, you might want to relax on the terrace of an open-air café and enjoy a leisurely cup of coffee in the bright sunshine. Here on Garosugil street, there are many charming cafes and restaurants where you can take a rest from shopping and grab a quick bite.

ALLO PAPER GARDEN

This is the second branch of Paper Garden to open in Seoul. It opened on Garusogil street in March 2008. While the first branch, Apgujeong Paper Garden, is really a café, it is fair to say that Allo Paper Garden is more of a restaurant; it has quite an extensive menu and is famous for its brunches. On the 2nd floor, there is a stylish open kitchen.


☞Location: Close to exit# 4 of Apgujeong Station or exit# 8 of Sinsa Station (Subway Line 3). Just off Garusogil street. Turn into the alley next to Buccella and walk straight.
☞Phone: +82-2-541-6933
☞OPEN: 11:00-01:00AM
☞Homepage: www.papergarden.co.kr


5 CIJUNG

5 CIjung is both a café and a small art gallery where you can see work by amateur artists. The interior is painted white to best display the paintings, and the store is small and cozy. Soft persimmon yogurt (hongsi yogurt) and fresh ginseng milk (Susam milk) are the most popular items on the menu. Tea is served with a scone and decorations, which are so cute that you'll definitely want to take photos.


☞Location: Close to exit# 4 of Apgujeong Station or exit# 8 of Sinsa Station (Subway Line 3). Just off Garusogil street.
Go into the alley next to Starbucks and walk straight
☞Phone: +82-2-512-6508
☞OPEN: Sunday, Monday 13:00-22:30/ Tuesday-Saturday 11:00-24:00
☞Homepage: www.5cijung.com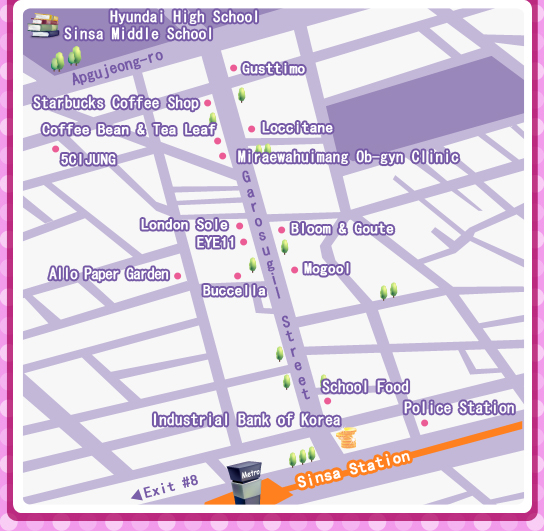 Cheongdam-dong
If it's stylish, upscale goods that you're looking for, then you should head to Cheongdam-dong, known as "The Beverly Hills of Seoul". Prices here are steep, but if you've got money to spend, this trendy area will soon prove to be exactly what you are looking for. Here you can find boutiques for nearly all the luxury brands such as Armani, Prada, Gucci, Dolce & Gabbana, Cartier, and Louis Vuitton. This is where Korean celebrities and successful entrepreneurs come to do their shopping.
Armani


☞Location: Located on the opposite side of The Galleria Luxury Hall or 10m away from 10 Corso Como
☞Phone: +82-2-540-1115
☞OPEN: Monday-Saturday 11:00-20:00/Sunday 12:00-20:00
☞Homepage: www.giorgioarmani.com


10 Corso Como

Stepping into this store, you will feel as if a fashion magazine has come to life. Here you can find luxury clothes by many different designers, a bookstore, music store, interior design products, and a restaurant and wine bar. Korea's celebrities like Park Yong-Ha, Kang Dong-Won, and Seo In-Yeong frequently visit 10 Corso Como. If you are lucky, you might bump into one of them.


☞Location: Located on the opposite side of The Galleria Luxury Hal, next to LYNN
☞Phone: +82-2- 3018-1010
☞OPEN: 11:00-20:00
☞Homepage: www.10corsocomo.co.kr
☞The Multi-Shop Guide
- 1F: Women & Men Casual wear, Bookstore, Music Store, Restaurant & Wine Bar
- 2f: Collections from the New York, Paris and Milan fashion showsる商品
- 3F: Products featuring the 10 Corso Como Logo


Rodeo Drive in Apgujeong-dong

A short distance from the Galleria Department Store is the long, meandering Rodeo Street, which is lined with fashion shops. Many of Korea's trendsetters gather in this area, and so fashion styles seem to be changing every minute. Young people who are passionate about fashion should head to Apgujeong Rodeo Drive, where you can find everything from sophisticated designer brands to unique accessories.

ATELIER & PROJECT

Atelier & Project is the brainchild of three childhood friends who ever since they were small dreamed of opening a shop together. These girls became an art director, fashion curator, and pastry chef and so opened a shop, which is clothes shop, antiques shop, and a café. The charming shop sells a variety of products such as clothes, shoes, accessories, antique furniture, and various unique items. The shop also hosts various events, such as photo exhibitions and jazz performances. We strongly recommend that you the try fig scone and wine granita, which the chef developed herself. However, be careful, the sweet wine granita does have some alcohol in it.

☞Location: From Galleria Department Store, walk in the direction of Cine City cinema.
☞Phone: +82-2- 548-3374
☞OPEN: 11:00-22:00
☞Homepage: www.atelierandproject.com


Goshen

Goshen is famous for being the place where top Korea movie star Jung Woo-Sung was picked up while he was working as a waiter. The café's terrace is decorated with flowers and trees, so be sure to get a table outside if the weather is good. However, don't be disappointed if all the seats on the terrace are taken, an entire wall of the café has been made from glass, and so if you sit by the window, you will feel as if you are sitting outside.

The café has a diverse menu, which includes western food such as salads and pastas, as well as Korean classics like tteokbokki (spicy rice-cake) and bokkeumbap (stir-fried rice). The tteokbokki is large enough for 3-4 people to share. During the day, the café has a casual atmosphere, but in the evening, when the candles are lit, it becomes quite romantic.


☞Location: Close to the Galleria Department Store. Enter the alley next to the Coach store (located opposite Galleria Department Store), and walk until you reach Goshen on your left hand side.
☞Phone: +82-2- 514-1838
☞OPEN:11:00-06:00AM
☞Homepage: www.i-goshen.com


Read one traveler's story of shopping in Gangnam