Keen shoppers are always on the look out for a great bargain, and in Korea, shoppers in the know, head to the outlet shopping centers, where brand items are on sale for discounted prices. Here you can find designer brands, like Burberry, Lacoste, and Marc Jacobs, whose prices have been slashed, sometimes to as much as 60% cheaper than in the department stores. These days you can pick up a designer dress at a Korean outlet shopping center, for what you would normally pay for a mid-range brand, and with the depreciating value of the Korean won, you'll be making great savings on your airplane tickets, accommodation, and food, as well as at the outlet shopping centers. VisitKorea has prepared some tips for successful outlet shopping.

Outlet stores generally offer 30~40% discounts on merchandise, but they also can discount their

merchandise even further when they want to sell off their old stock. For example, towards the end of the season, outlet customers can pick up merchandise at prices 90% lower than at a department store. With such great bargains, it's tempting to pick up items that you really don't need.
The following three outlet stores are located in Seoul or in the city's suburbs and stock many popular foreign brands. Therefore, they attract many international tourists.

Munjeong-dong Rodeo Street

Munjeong-dong Rodeo Street was where the first outlet store opened in Korea back in the beginning of the 1990s, and since then it has developed into a major shopping area. These days there are over 200 stores along the main street, including outlet stores, fashion malls, and boutiques. Female fashion boutiques include Jill Stuart, Time, Anne Klein, Benetton, and Sisley, and casual brands include Guess, Polo, Levi's, Nike, and Giordano. As well as foreign brands, there are many popular Korean boutiques, so this shopping area is particularly popular with people in their twenties to thirties.

The Adidas store on Munjeong-dong Rodeo Street, sells directly imported merchandise at discounts of 30~50% and sells some merchandise at clearance prices all year round, so this is a good place for those looking for bargains.





VisitKorea's Munjeong-dong Shopping Tips!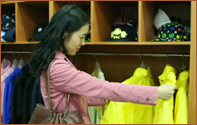 Although there are fashion malls such as Mods and Magic Plaza, almost all the shops in the Munjeong-dong Rodeo Street area are boutiques along the main street, so in order to save time, chose which fashion brands you want to check out first, and then visit those boutiques.



Some stores, such as the Levi's store, sell the new season's stock on the first floor and goods from previous seasons on the second floor, which are often reduced by 50% to 80%. Look out for classic styles that won't go out of fashion quickly.



One more thing to bear in mind is the shopping season. The best time to shop is immediately after the stores in Rodeo Street restock their merchandise, which, like in department stores, is at the start of a new shopping season. During May and September, the Rodeo Festivals, are held and during festival time great discounts are offered on a large variety of merchandise.



Mario Outlet
The Mario Outlet store, located near to Gasan Digital Complex subway station, contains many famous designer names all in the same building complex. It is like a department store, except the merchandise is available at discounted prices. This large store comprises of three buildings, Mario1, 2, and 3.

Mario 1 and 2 sell DAKS, Samsonite, Nine West, men's clothing brands such as Renoma, Pierre Cardin, and Paul Stuart, as well as ladies' clothing brands, such as MICHAA, Obzee, KUHO and SJSJ. Customer can find leading accessory brands, such as Kipling and LeSportsac, in Mario 3. Although stocks are limited, customers can find watches or sunglasses which are discounted by 50 ~80 %. It's even possible to find some classic styles that won't go out of fashion quickly.

At the start of each season, the Mario Outlet store holds a special event where prices are discounted even more than normal. For example, at this time, customers can pick up a 198,000won dress for only 39,000won and a 128,000won skirt for 29,000won. Such incredible bargains have made Mario Outlets a popular shopping destination in Korea.





VisitKorea's Mario Outlet Shopping Tips!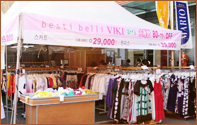 The merchandise is restocked on Thursdays and Fridays, so this is when shoppers can find the biggest variety of high-quality goods.


At the end of the year, the Mario Big Sale is held, and merchandise is discounted by an incredible 90%.



On weekends, the Mario Outlet store holds the "Time Service Sale" where for a short period of time, the merchandise will be discounted by an additional 10-20%. There is also the "Celebrity Sale Event", where celebrities' belongings are put up for auction and bids start at only 1,000won.



Mario Outlet store also provides a VAT (value-added tax) refund service for foreign tourists and non-Korean citizens who spend over 30,000 won at the Mario Outlet. The store will provide you with a tax refund ticket, and if you depart from Korea within three months of your purchase, you will be able to present this ticket at the time of your departure and be refunded the VAT. TAX REFUND tickets are issued at the Mario 2 third floor Information Center.


Information
How to Get There :
Take subway line 1 or 7 to Gasan Digital Complex station. Come out of exit 4 and walk straight. You will find the Mario 3 building on your left.
Operation Hours:
10: 30~21:30 / Open 365 days a year (closed on Seollal and Chuseok holidays)
Inquiries : 02-2109-7114~5(Korean)
Outlet Detailed Information : Click Here!
Homepage : www.mariooutlet.co.kr (Korean)


Yeoju Premium Outlets

Yeoju Premium Outlet center is one of the best places in Korea for luxury brand shopping. It is modeled on an American outlet center and has over 120 popular brand name shops, such as Armani, Burberry, Diesel, Gucci, and Marc Jacobs, all selling discounted merchandise. 80% of the shops are international brands, but you can also find high-quality Korean brands, such as Bean Pole, at this outlet center.

The grounds of Yeoju Outlet Center have been beautifully landscaped so shoppers will enjoy strolling around the area while they browse the shops.

The Burberry store normally sells merchandise at a 20% discount, but these days it is holding an "additional 20% discount sale" so customers can purchase clothes and bags at 40% off the regular price. Burberry coats are even discounted a further 40%, so that's an amazing 60% cheaper than what you would find in a department store.
If you are looking for classic staple items, head to the GAP store, where you can find adult and child T-shirts for around 15,000won. Lacoste is offering 60% discounts on merchandise from its 2007 Spring and Summer seasons. Events at Yeoju outlet shopping center include "Brand Week Sale", which takes place once a month. For detailed information, visit www.premiumoutlets.co.kr, which has an English website.





VisitKorea's Yeoju Premium Outlets Shopping Tips!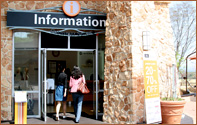 On arrival, visit the Information Center and pick up a map of the outlet center. Maps are available in English.



The best time to visit Yeoju outlet center is during "Brand Week". This is an "Additional discount sale" event that takes place each month with varying themes. This month, the theme is "Jewelry and Living", and TASAKI, Tefal and LE CREUSET are offering up to 70% discounts between April 10 and 26.



Information
How to Get There
From Seoul
From Gangnam Express Bus Terminal
(Express Bus Terminal Station, subway line 3),
take a bus to Yeoju (est. travel time 70mins/ 4,900 won)



From Dong Seoul Terminal
(Gangbyeon Station, subway line 2),
take a bus to Yeoju(est. travel time 70mins/ 4,900 won)

From Yeoju
Across the street from the bus terminal, you can take a city bus to the Yeoju Premium Outlets (est. travel time of 15~20mins/1,000 won) or take a taxi (est. travel time of 10mins/8,000~9,000 won)

Operation Hours : 10:00~20:00 on weekdays / 10:00~21:00 on Saturday
Inquiries : 031-880-1234
Outlet Detailed Information : Click Here!
Homepage : www.premiumoutlets.co.kr (Korean, English)

Seoul-Yeoju Premium Outlets Travel Package Details

- Operates: Fridays, Saturdays, Sundays, and Public Holidays
- Rates: Adult 16,000 won / Child 11,000 won
- Reservations should be made in advance, for details on how to book, please visit Here!


Time
Place
11:00
Depart from the Grand Intercontinental Hotel airport bus stop in Samseong-dong
11:05
Depart from the COEX Intercontinental Hotel airport bus stop in Samseong-dong
11:15
Depart from exit 1 of Sports Complex station on subway line 2
11:20
Depart from Jamsil station on subway line 2
(In front of Lotte Mart, 200m away from exit 4 of Jamsil Station)
12:30
Arrive at Yeoju Premium Outlets
17:00
Depart for Seoul
Jamsil station – Sports Complex station – Samseong station