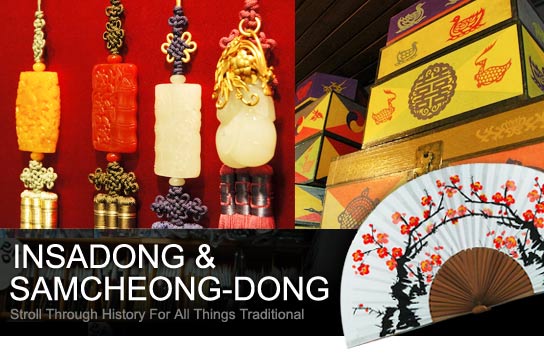 Shopping in and around the areas of Insadong and Samcheong-dong is a truly unique experience, and one very different from the congested neighboring areas of Namdaemun, Dongdaemun and Myeong-dong. Gone are the flickering neon lights, teeming stalls and looming department stores in favor for quieter, cozier shops much more traditional in design. Insadong, long since regarded as the place to come to for artwork and antiques, is a great place to enjoy the afternoon combing store front windows and alleyways for all things authentically Korean.

Shoppers should note that many of the shops feature items that have been handcrafted or painted by the owners themselves. Everything from tea sets, wooden masks, furniture and artwork can be purchased, albeit at slightly higher prices due primarily to their quality and authenticity.

A short walk north is the quaint stretch of Samcheong-dong, an area awash with many fashionable clothing and accessory shops – most of which are run by designers themselves. The stylish strip is lined with numerous European cafes, restaurants, and wine bars that make for an enticing, romantic retreat after a hearty day of shopping. Although many of the surrounding shopping districts sell certain varieties of traditional souvenirs, no trip to Seoul would be complete or as memorable without a stroll through either one of these cultural hideaways.




Wedged between Gyeongbokgung and Changdukgung Palace, Samcheong-dong slivers all the way up to Cheong Wa Dae (Presidential buildings) and the beautiful hanok village of Bukchon. A little ways south, bordered by Jogyesa (chief temple of the Jogye Order of Korean Buddhism) and Unhyeongung Palace, is the narrow street of Insadong, replete with a seemingly endless series of smaller shops, galleries, teahouses and restaurants.

Visitors can comfortably walk from one end to the other, taking in a cup of traditional tea and a Korean meal along the way – there are literally enough to fill every nook and cranny and range from the more modern to those with more of a traditional flavor.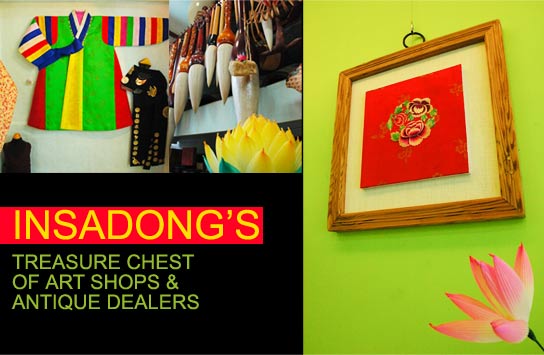 Insadong has more than 70 shops, selling a variety of both modern and antique pieces from amateur and professional artists. Exhibitions are held frequently where visitors can learn a great deal about Korean culture through the hearts and minds of local artists and even purchase work as seen on display. Those interested in traditional craftwork can expect to find items ranging from wooden masks, ceramics, and dyed woven rice paper at a number of shops flanking the main street and the myriad hidden alleyways.


Myung Sin Dang Brush Store

One store in particular that sells brushes, Chinese ink, ink stones, engraving stones, paper and books is Myung Sin Dang Brush Store. Located at the northern end of Insadong's long line of shops and galleries, this cozy shop is chock full of creative gems. With knowledgeable and friendly service close at hand, this spot makes for a perfect stop for gift and souvenir buying.


• Address: Seoul-si Jongno-gu Gwanhun-dong 18
• Tel: (02) 722-4846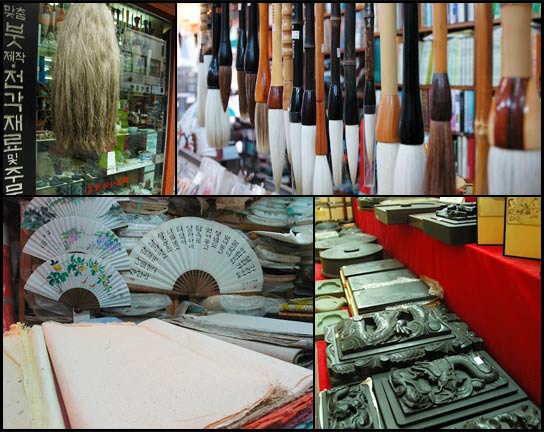 TONG-IN

Located roughly in the middle of Insadong's main strip is the impressive TONG-IN store. Replete with all things traditional and handcrafted, the selection is both excellent and stylish and the décor uniquely Korean in appeal.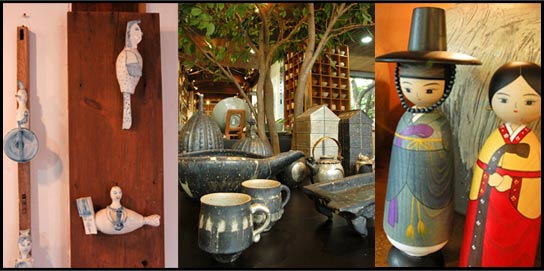 Seoul Souvenir Shop

Also in the vicinity is the modern Seoul Souvenir Shop selling everything imaginable – under one roof. It makes for an ideal stop along the way for those who prefer to do their shopping in one fell swoop. Everything from traditional tea sets to traditional hanji (Korean rice paper) fans and lanterns.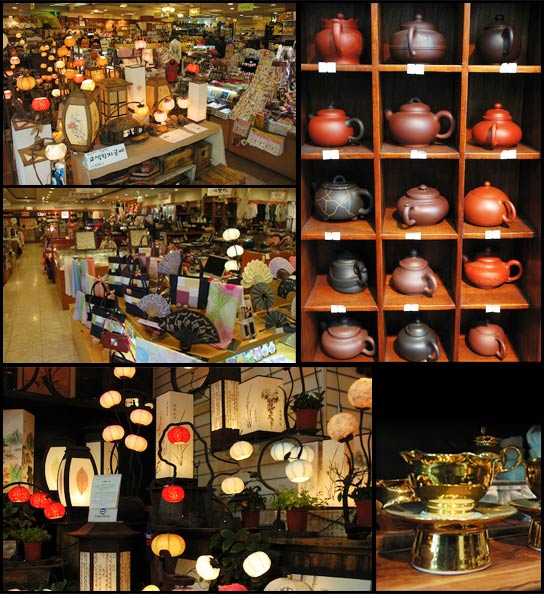 Ssamziegil Market


The very modern three-storey edifice of Ssamziegil houses everything from traditional antique shops to more trendy stores carrying hip clothing and glittery accessories. The courtyard below makes for a great vantage point to watch the floods of shoppers rush through in search of the latest fashion or timeless souvenir.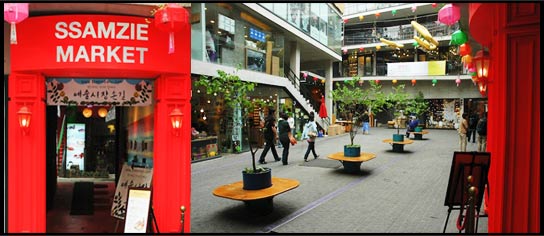 What Samcheong-dong lacks in cultural knick-knacks it certainly makes up for in stylish fashion and accessories – all of which are designed by the shop owners themselves making every purchase uniquely original. Traditional items such as hanbok (traditional Korean clothing), norigae (traditional Korean accessory to go with habok), and handcrafted jewelry can all be found along the area's main road and a host of other more reclusive stores snaking up the many side streets. Reminiscent of Europe in more ways than one, Samcheong-dong is a haven for both youngsters and adults alike. There's something for everyone here. And after a hearty stroll, why not choose from the impressive list of cafes and restaurants bordering the sidewalks – the perfect way to cap off the day.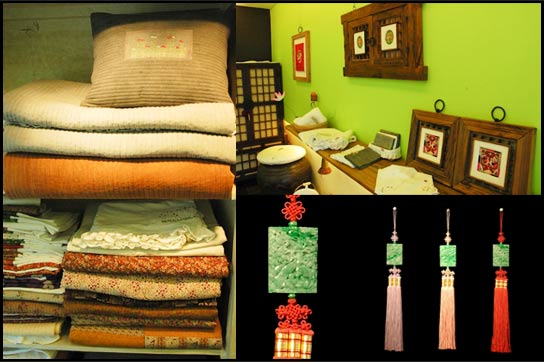 Written and photographed by Gregory Curley