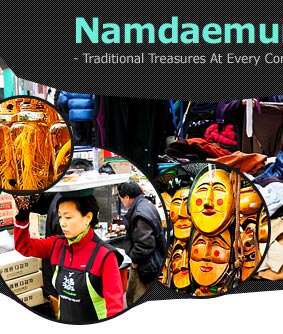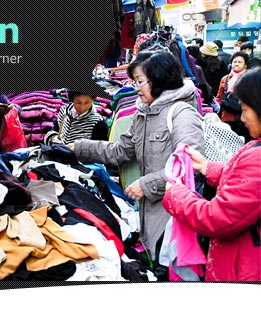 One of Korea's largest and most popular traditional markets, Namdaemun is an absolute haven for street shoppers. The area's myriad walkways are flanked with streams of cozy shops and cluttered stands selling everything from inexpensive clothing, accessories and glasses to cameras, imported foods and tableware. And with a little extra effort, curious eyes and adventurous spirits will be further treated to an even greater scale of variety with a little more searching and digging around the area's harder to reach nooks and corners. With all this selection and discount prices, it is no small wonder that Namdaemun's appeal is so far reaching. If you can't find what it is you're after here, chances are you won't find it anywhere else in Seoul.
The market's biggest draw is for female shoppers as women's clothing is the biggest proportion of products sold here. In fact, the complexes selling women's apparel have been paving the way of women's fashion for over thirty years. The sheer number of outlets scattered throughout the district is astounding. The list includes Daedo Lady Complex, Bondong Clothing Complex, Namdaemun-ilbeonga, Cheongja Complex, Hanyoung Complex, Wings Town Complex, Jiyangttimoa and Kennedy Complex. Another outlet in this area for Korean fashion is MESA. It is a little more international in appeal and some of the styles here are more avant-garde and global in appeal. Whether your tastes are conservative or more liberal in nature, you will find every line of fashion throughout Namdaemun.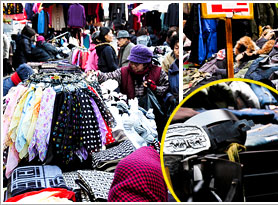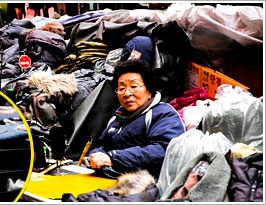 Accessories
If it's accessories you're after, head straight to Namdaemun's Accessory Complexes. There are over ten nestled among the side streets stretching throughout the market. Both the fashion and accessory outlets comprise the pillars of the area and remain the largest attraction. A trip to Namdaemun isn't complete without a visit to either one of these numerous venues.
The Endless Stretch of Street Shops & Stands

The seemingly endless line of street stands is arguably the highlight of Namdaemun. Hearing the merchants cry out as you pass by, competing with their neighbours and urging many a passerby to come take advantage of their cheaper prices, adds to the overall experience. Like the surrounding larger scale complexes, the street stands also boast accessories, shoes, caps, clothing, children's toys and even kitchenware. Yet, prices here are somewhat cheaper and bargaining is even an option in some parts.

Head Underground For Those Hard-to-Find Products

Foreigners feeling a little homesick for some of those familiar products from back home can explore the market's underground shopping center. The huge sub-level sprawl has everything from perishable and non-perishable foods, toiletries and a host of medicinal and nutritional products including protein supplements and vitamins that may not be available at most Korean pharmacies. Enthusiasts will also find several clothing stores and even an area selling antique furniture and other decorative household items and supplies.



Similar to the rows of street stands above ground, there are also numerous booths underground for those in need for beautiful fabrics. Everything from tapestries and linens to shower curtains and draperies can be found for affordable prices here.
Fabrics and Traditional Handcrafts
There are also a few fine outlets for fabric and traditional handcrafts above ground. Whatever the material and no matter the color, you'll have no trouble finding it, as each shop has simply hundreds to choose from. Those looking for unique souvenirs and cultural knick-knacks made from bamboo, wicker and various other wooden materials will find them either hanging or laid out tastefully on display at several cozy shops.

Where To Eat
And no shopping experience can be complete without a little eating. All this walking deserves a good rest and what better than to take in the experience of Korean eateries, or pojangmachas, and sample some traditional delicacies like kimbap, noodles and a host of delicious pan-fried foods.

Outdoor Supermarket
Namdaemun isn't famous for just its clothing and loads of other discounted items. The area also boasts an impressive line of outdoor markets where shoppers can buy produce, meats, seafood and traditional Korean foods such as deok, kimchi and gochujang.

Further Information
There is an information center in the middle of the market. Shoppers can request booklets, maps and make all other inquiries here. The staff is both friendly and knowledgeable.
*Getting There: Namdaemun Market is located in the central area of Seoul (Namchang-dong, Jung-gu) and can be reached directly by subway. Simply take Line 4 to Heoyeon Station and get out at either Gate 4, 5 or 6.
Written and photographed by Gregory Curley