Seoul has numerous popular shopping locations such as Myeong-dong, Ehwa University, and Itaewon. However, Korea's most well known and probably best shopping location is Dongdaemun, which is packed with eager shoppers browsing the wholesale and retail malls and street stalls. At Dongdaemun Market there is a huge selection of merchandise available at affordable prices, and the shops stay open until dawn allowing customers to really shop until they drop!

A Tour of Dongdaemun
There are some 30,000 shops in the Dongdaemun (동대문) area, so it's probably a good idea to get some information before you start on your shopping expedition. You can visit the 'Dongdaemun Market Tourist Information Center' located behind the Migliore building, or the 'Dongdaemun Market Information Center' situated on the fourth floor of the U:US shopping center.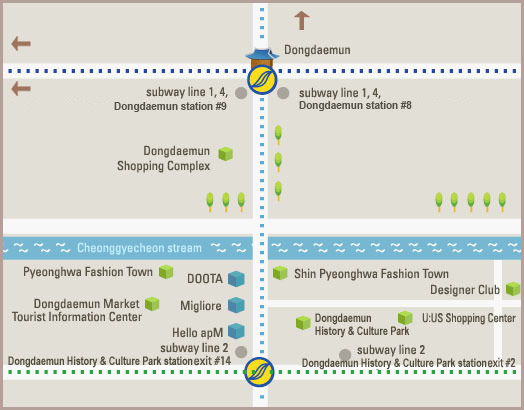 Discover the Wholesale District

Visitors can enjoy browsing the large quantities and varieties of clothing, fabrics, imported goods, underwear, bags, socks, and gloves at the wholesale shopping district. Most of the items are only available in large quantities and are intended for retail, but the sheer spectacle makes for a great shopping experience. Most of the shops in this district open from 9:00pm to 5:00am or 6:00am the next day. This district's most well known shopping centers include the Dongdaemun Shopping Complex, Pyeonghwa Fashion Town, and Designer Club, which are all conveniently located within walking distance of each other. There are some small quantities of goods available for sale, but please note that prices might be higher than the wholesale costs.




Tip: Shopping at the Street Stalls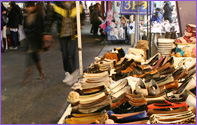 Lining the streets of Dongdaemun are stalls selling merchandise such as shoes, bags, and accessories, many of which are imitations of designer items. Here you can try out your bargaining skills and get super discounted prices. These shops begin to open at around 9:00pm and stay open until dawn.



Enjoy Shopping in these Enormous Fashion Malls

Take subway line 2 to Dongdaemun History & Culture Park station, and when you walk out of exit #14,you will see a line of enormous fashion malls to y our left, including Hello apM, Migliore, Doota. These shopping centers are all at least 10 floors high and contain hundreds of stores, although this might seem a little overwhelming, each floor is helpfully categorized by the type of fashion item it sells. Here you can pick up original fashions designed by Korea's young designers, the prices are great, but you can try bargaining them down even lower. At night the atmosphere in Dongdaemun is electric, as audiences crowd round the fashion malls' outdoor stages where Seoul's youth come to try out their singing and dance moves.




<Detailed Information>
Directions:
Subway line 1,4, Dongdaemun station exit #8 / Subway line 2 Dongdaemun History & Culture Park station exit #14
Migliore

Doosan Tower


Recommended Food! Dongdaemun Dakhanmari (whole chicken) and Kal-guksu (handmade noodle soup)

Towards the rear of the Dongdaemun Market is a small alleyway, known as the 'Meokja-golmok (food alleyway)' where visitors can find a wide variety of dishes such as fried fish, traditional Korean meals, and more. This area is well known for its large servings and tasty food. Some of the most popular spots are the 5 or 6 Dakhanmari (whole chicken) restaurants, and customers come from great distances to eat here. For only 20,000 won customers can have a deliciously cooked chicken with a special marinade sauce to dip it in and a rich bowl of broth.




Tip: How to Eat


① Put the whole chicken in the pot with the broth and cut in into pieces with scissors.
② Select complimentary side dishes such as rice cakes, potatoes, etc. The side dishes can be eaten while you are waiting for the chicken.
③ Prepare a marinade sauce with red pepper paste, garlic, kimchi, and Korean spring onions.
④ Enjoy the well-cooked chicken with the marinade sauce, then order a helping of noodles (kalguksu) to eat with the broth.




<Jinokhwa Halmae Wonjo Dakhanmari>
Directions:From subway line 1 Jongno 5(o)-ga station exit #5, walk towards Dongdaemun Market and you will come across Shinhan Bank. Go down the alley next to the bank and you will see a cluster of chicken shops.
Address:Seoul-si Jongno-gu Jongno 5(oh)-ga 265-22
Shop Hours: 10:00am ~ 10:30pm
Menu:Chicken, Dakdoritang (broiled chicken in broth with red pepper paste), Samgyetang (chicken in chicken broth with ginseng), etc.
Homepage: Click here (Korean)(Kor)


Contact:+82-2-2275-9666 (Korean)


Dongdaemun from Traditional Market To Fashion Giant

Pretty Women on a Night Tour to Jongno & Dongdaemun