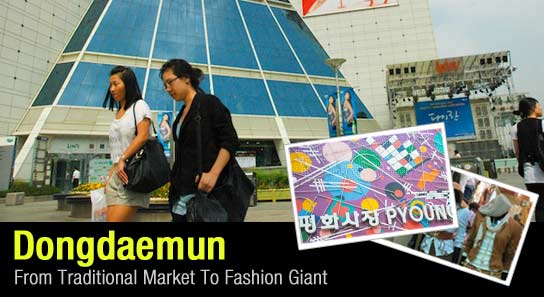 The urban sprawl of Dongdaemun draws in huge numbers of shoppers at all hours of the day. Quite simply, it is Korea's largest wholesale and retail shopping district, boasting a staggering twenty-six shopping malls, over 30,000 specialty shops and more than 50,000 manufacturers. Such dizzying numbers put the area in a class of its own when it comes to selection. Sure Myeongdong has its fair share of variety, together with Hongdae and Ewha, but although both are great areas to venture out to, they come nowhere close to attracting as many shoppers hungry for deals. All along the ten blocks that make up the shopping district of Dongdaemun, you will find silks, apparel, shoes, sporting goods, and even plumbing and electronic supplies, office stationary, toys and just about everything else imaginable.

Regardless of what you're in the market for, you're bound to find it in Dongdaemun. And given its relatively central location, it is very easy to get to and makes for a great day out in the sun.

The years have seen the once conventional, smaller market change into a fashion Mecca almost overnight. Designated as Treasure No. 1 in 1963, the area's original name is Heunginjimun. The '90s brought a deluge of large-scale shopping malls that are favorites for the younger trendsetters. Dongdaemun manages to attract a million shoppers on a daily basis and more then two-and-a-half million overseas tourists every year. To handle such numbers, parking lots have been made available to accommodate eight thousand vehicles a day.

Perhaps the biggest draw is the hours of operation here. Wholesalers operate as late as 1:00 a.m. right through to 1:00 p.m., and retailers from 1:00 a.m. to 6:00 p.m. Part of what makes Dongdaemun so unique is the late-night shopping, which brings hordes of buyers from all over to comb for low prices and to experience the bustling nightlife. Nowadays, shops stay open from 10:30 a.m. all the way through to 5:00 a.m., giving visitors more than enough time to get all their shopping done. However, as Seoul continues to invest more and more in to new development projects, shopping areas also follow suit and many revamp their image. The older streets of Dongdaemun are losing business in favor of newer department store complexes that have wider walkways, brighter lighting, and trendy music that appeal to the younger demographic.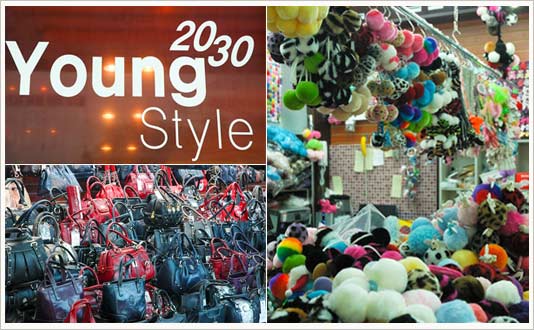 If one were to visit today, they would be lucky to find the old, traditional market areas of Dongdaemun Shopping Town and Dongdaemun Chain Store. Shops here cater primarily to newlyweds selling clothing materials, bedding, and silverware – all the essentials for starting a new household together. Polar opposite across from Dongdaemun Stadium, are the colossal department stores of Doosan Tower and Migliore – arguably today's hippest stores for both teens and college students. Here one can find the latest fashions, shoes, inexpensive jewelry, bags, CDs and even colored wigs. Those really on the prowl can comb for Western toiletries and even a decent selection of Western foods – ideal for foreigners who may be feeling a little homesick. Many young, fledgling designers have all opened up shops here to showcase their creations.

Given the international appeal of Dongdaemun, the Seoul Business Agency (SBA), a subsidiary of the Seoul Metropolitan Government (SMG), established the Seoul Fashion Center (SFC) in July 2000 to consolidate overseas marketing, nurture the growing fashion industry and further support the fashion and cultural business as a whole.

Fashion Town, which the government designated as a special tourist zone in 2002. Integrating the traditional market with a modern shopping mall, the one-stop appeal of Fashion Town provides 24-hour wholesale and retail shopping for visitors from a selection of over 30,000 stores. Literally a global fashion city, the zone is made even more attractive thanks to the newly restored Cheonggyecheon Stream. Best to come at night as all the surrounding lights truly add a sense of both romance and charm.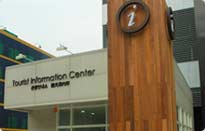 For added convenience, there is an information center located beside CERESTAR Department Store to help you with any questions.
For more information, click here!

| | |
| --- | --- |
| | Towering Department Stores – Beacons of Fashion |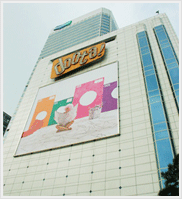 Doota!

If walking around isn't quite your thing, then take to the cool indoors and stroll through the many walkways of this giant fashion mall/store. Boasting more than ten floors and wall-to-wall fashion outlets, you will need to spend a great deal of time in here, as there is simply far too much to witness in a short time. Many of the clothes are even designed by the sellers themselves so you can have any of your questions answered right away. The basement floors even carry Western food items not normally found in many of Korea's supermarkets.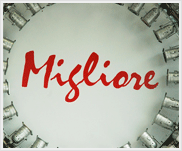 Migliore

This is another option for department store seekers on the hunt for fashionable designs. Selection is pretty much the same as Doota! and spreads out over a multitude of floors. Prices are also quite affordable and one can usually bargain for a better price. In fact, it's rare that anyone pays the sticker price. There is a food court as well for those craveing a bite to eat after walking around for the afternoon.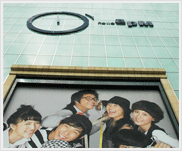 Hello APM

Not as grandiose as the neighboring Doota! and Migliore, this department store still has a lot to offer shoppers. Like the name suggests, clothes here suit any hour of the day and range from formal wear to casual wear. There is strong appeal for younger shoppers here.

Written & photographed by Gregory Curley