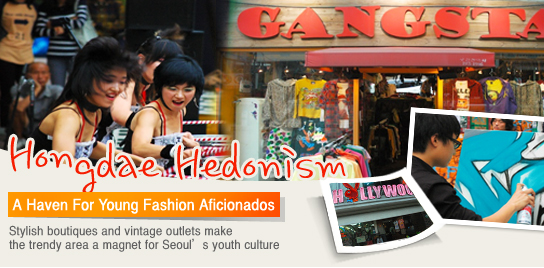 It's often been said that when it comes to fashion Seoul has something to suit everyone's taste. Although this statement is rather accurate, the area of Hongdae is in a league of its own when it comes to the characteristics of a traditional shopping district. Its appeal is certainly far-reaching, with its large selection of fashionable goods, but the surrounding nightlife makes it all the more attractive to the city's growing youth culture. And with Hongik University campus nearby, a school famed for its fine arts and design programs, the quest for individuality and creativity is also quite strong here and ushers in students and visitors alike to comb the clothing stalls lining the streets for the latest trend – something truly original. Many stores even feature apparel conceived by the students themselves. Hipsters take note, with all the endless series of vintage outlets, discount shops and stylish boutiques boasting items that are reasonably priced and very much en vogue, Hongdae remains a great place to spend the day soaking in the entertainment and grabbing the best deals. If outdoors is where you want to be, rather than indoors inside goliath shopping malls, then jump on the subway and mark this stop in your itinerary.

The highest concentration of clothing stalls and vintage shops can be found flanked along the main passageway of Eo Ulmadang-gil, a short distance away from Hongik University subway station. Curious eyes will also find quite a nice selection of small boutiques dotting the many side streets in between cozy cafes and decorative, elegant restaurants.




M Market
Those preferring to explore indoors can head to Market M, conveniently located near the subway station. Selection here is a little more varied and caters primarily to those with specific tastes in mind. Prices are not very expensive and shoppers can still find some good deals. Most appealing about Market M is its interior design, resembling very much a country home in many ways. The store's main focus is on functionality and design. When you're finished looking around, why not take in a nice refreshing iced café latte at the nearby 'ah studio' (www.ahstudio.co.kr). The interior is very tranquil as it sits right next door to a plant shop.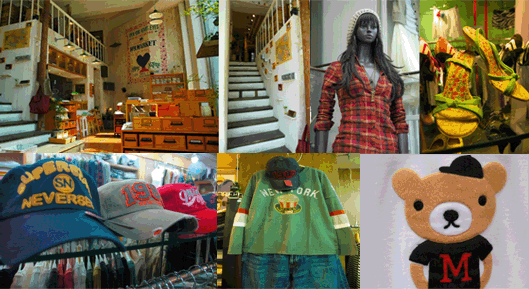 Tel: (02) 337-4769
Address: 328-27 Seokyo-dong, Mapo-gu, Seoul
Website: www.market-m.co.kr


Volkswagen
As most shops in and around the area cater strongly to women, men will be happy to learn of this unique store. Selection is quite large and items include t-shirts, jeans, man-bags and a variety of hats. The style is very European, very much in line with the styles of Diesel, and highly original. Volkswagen is a stone's throw from Hongik University subway station. Get out at exit number 5, turn left and walk straight for 2mins. You will see it up on your right.

Tel: (02) 334-8817
Mobile: 011-9763-6819
Address: 345-1 Seokyo-dong, Mapo-gu, Seoul


Romantica
This cozy shop has several vintage items like dresses, handbags and formal evening wear at reasonable prices together with a variety of authentic accessories. Items here are a little more conservative in nature from the other more extravagant shops. Regardless, the selection is attractive and the rustic setting sets it apart from its neighbors. This shop is a short 5min walk away from Volkswagen, along the main corridor of outdoor clothing stalls.

Tel: (02) 322-8966
Mobile: 010-4945-8428
Address: 365-26 Seokyo-dong, Mapo-gu, Seoul


Togut University
Clothing here is a little more liberal in design – both funky and retro in nature. The circular shop carries shoes, handbags, and apparel both for formal and informal occasions. There's even a stall out front with discounted items. It's easy to find as it sits right on the corner. Service is friendly and very helpful in finding or ordering styles and sizes for you if need be.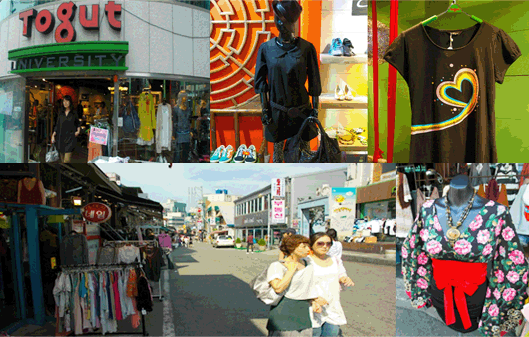 Tel: (02) 323-1399
Address: 364-15 Seokyo-dong, Mapo-gu, Seoul
Website: www.togut.com


Fancy A Bite?
Keeping with the Hongdae's vibrant entertainment scene are a string of tastefully decorated restaurants. One only has to wander down any side street to be awarded with a cozy venue that is truly unique. From the long list, one can choose from Italian, French, Japanese, Italian and, of course, traditional Korean. Also dotting the streets are many lounges, wine bars and cafes. Follow your instincts!

Like all good discoveries, it's often the hunt that makes the whole experience all the more worthwhile. Those on the prowl, combing for authenticity, won't be disappointed when venturing through the bustling area of Hongdae. It's best to get here early, grab a cup of coffee and slowly make your way out to the streets. Shops don't open until usually around 11, and the stalls come out in the early afternoon, weather permitting. When the evening rolls in, there's never a dull moment with all the restaurants and bars opening up for the younger crowds. With all this selection, Hongdae is arguably one of Seoul's best offerings for spending the day among friends or with a significant other.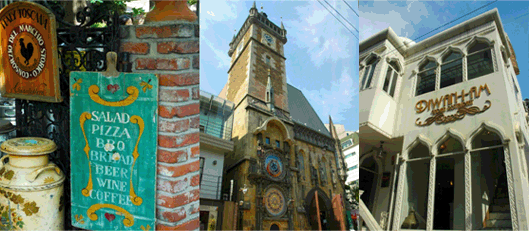 Written and photographed by Gregory Curley