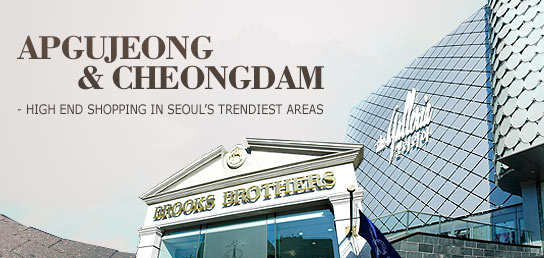 It's quite possible that the affluent areas of Apgujeong and Cheongdam may not boast as wide a selection of shops as, say, Myeongdong, their neighboring counterpart. But what they lack in variety, they most certainly make up for ten fold in quality. With virtually no street stands or outdoor vendors to speak of, most of the purchasing is done indoors at lavish department stores or the myriad fashionable shops dotting the many side streets. Long regarded as "The Beverly Hills of Seoul", if it's stylish, upscale goods you're after, you'll surely find them here. Prices here are steep, but if money's no object the trendy area will soon prove to be a very welcoming experience. While Apgujeong remains more of a magnet for those in their 20s, Cheongdam continues to attract a slightly older crowd of 30~40-year-olds.
Rodeo Drive (압구정로)
Prada, Gucci, Dolce & Gabbana, Brooks Brothers, Hugo Boss, Jil Sander, Armani and Louis Vuitton are just some of the designers that have flagship stores looming along the famous tree-lined corridor connecting Cheongdam to Apgujeong. And with a dizzying display of selection and both knowledgeable and attractive staff on hand it's not at all surprising that this is usually where a host of celebrities and successful entrepreneurs come to do their shopping.

Galleria Department Store
• Address: 494 Apgujeong-dong, Seoul, 135-110
• Store Hours: 10:30~8:30
• Tel: (02) 3449-4114
• Website: www.galleria.co.kr

Perhaps Apgujeong's most fashionable trademark is the Galleria Department Store. Divided into two separate buildings, East Gate (명품관) and West Gate (생활관), the impressive architectural addition of the latter features 4330 glass discs mounted to the existing concrete structure that reflect mother-of-pearl during the day and light up at night. The luxurious interiors were designed to resemble a glossy catwalk, with wide, bright corridors flanked by beautiful shops, cosmetic counters and a huge variety of grooming products. The West Gate also boasts a large supermarket, wine shop and bakery located at basement level. Enormously popular, this should be a starting point for any new shoppers to the area.
West Wing (생활관)
Though both buildings carry a wide range of high end products, the West Gate is the more affordable of the two. Here one can find a host of cosmetics (Chanel, Lancome, Estee Lauder), hair care products (Kiehl's, Organics), facial moisturizers (Biotherm), and a long line of fashionable apparel (Lacoste, Addidas, Hugo Boss, Kenneth Cole) all under one roof. The super bright stylish interior was designed to improve navigation and produce a fresh, clean image.

East Wing (명품관)
Although there are fewer shops in this building, they are considerably larger and much more elaborate. Products sold here are perhaps the most expensive and exclusive in all of Apgujeong. The shopping experience here is a little more traditional in detail and may appeal more to middle-aged and elderly shoppers with slightly more conservative tastes. The building is also referred to as "The Galleria Luxury Hall".

Rodeo Street
A short distance away from Galleria Department Store is the long, meandering stretch of Rodeo Street. Shops along here are much smaller and often only carry limited numbers of particular styles, making items much more original and unique. You can find brands such as Banana Republic, GAP, Abercrombie & Fitch, Club Monaco, American Outfitters and Old Navy that are often harder to track down at larger stores or shopping malls. Rodeo Street came into existence during the 1990s and started drawing in quite a following of younger people as new shops and boutiques began sprouting up one by one.
Boon The Shop
• Address: 89-3.16 Cheongdam-dong, Gangnam-gu
• Tel: (02) 542-8006
• Store Hours: 11am~8pm
• Website: www.boontheshop.com
Designed by internationally renowned architect, Guido Stefanoni, Boon The Shop is Korea's largest multi-shop. Both unique and very fashionable, one can find over eighty brands under one roof. Those in search of top labels in a luxurious setting should head straight here. Boon The Shop will be holding a special exhibition to celebrate the works of Roger Vivier from March 6th ~ March 19th.

Jimmy Choo
• Tel: (02) 3443-4570
• Store Hours: 12pm~8pm
Small and simple, this sophisticated shop shot to fame after being featured in television's "Sex In The City". On hand is an exclusive assortment of high-heeled items for all those shoe enthusiasts.

Smalto
• Address: Nao B/D 62-3 4B Cheongdam-dong, Gangnam-gu
• Tel: (02) 511-9533
• Store Hours: 11am~8pm
• Website: www.smalto.com
Tucked away in an attractive courtyard is the designer shop of Smalto. With a wide selection of stylish formal wear, friendly staff is close at hand to handle all inquiries regarding sizes and on-site tailoring.

Getting There
Although construction is underway for a direct subway station, Apgujeong and Cheongdam are currently not directly accessible. Simply take Line 3 to Apgujeong Station and take a taxi. Fare will be around 2,000 won.
Tourist Information Center
As Apgujeong does not yet have a tourism information center, those in need of a map will need to refer to the Seoul Tourist Information Book. Visitors can obtain a copy upon arrival at Incheon International Airport. For further inquiries, please call the Korea Travel Phone at (02) 1330 between 9am~6pm. Foreign language service (English, Japanese, Chinese) is made available.
Written and photographed by Gregory Curley