Win a Trip to Korea and More With KTO's Quiz on Korea
Toronto, Canada. May 20, 2014 ~ Beginning May 20 fans of Korea Tourism Organization's Toronto Office's Facebook page have a chance to win a trip to Korea with the launch of a 10 week quiz contest titled "Are You the Next Korea Tourism Expert?"
This year KTO's quiz questions focus on general information about Korea related to tourism. This contest is only available to Facebook fans of Korea Tourism Toronto Office's page www.facebook.com/visitkorea.
Each week for 10 weeks there will be 5 new questions revealed. The top contestant answering the most number of correct questions will win a trip to Korea for 2 with the second prize being a 47" LCD TV. For each week entered in the contest regardless of the score contestants will also receive a ballot for two tickets to Korea on Korean Air, a 47" LCD TV or one of 3 Korean jewelry boxes. Enter each and every week to increase your chances to win. Contest is open to Canadian residence only.
This year's contest is also open to residents of Quebec. Promotion of the contest will done through Metro daily newspaper in Toronto and Vancouver, SkyTrain and Canada line in Vancouver, TTC in Toronto as well as online and through Facebook.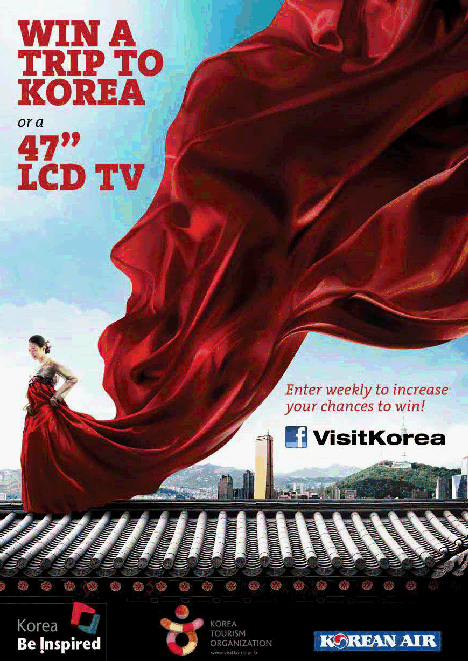 -30
For more information about Korea Tourism or travel to Korea,
please contact the Korea Tourism Organization at
1-800-TOUR KOREA (868-7567)
or 416-348-9056; Fax: 416-348-9058
e-mail toronto@knto.ca
Website: www.visitkorea.or.kr