KTO Introduces new MC&IT destination
Toronto, Canada. May 8th, 2014. – Last night marked a new destination for MC&IT planners in Toronto. A destination full of life with more than 5,000 years of history, culture and food. Korea was the talk of the town at Arisu Korean Restaurant on Bloor West.
Planners from across the GTA joined Select Group Marketing and Ovation Korea for an evening of learning, networking and fantastic food. The evening began with Korea Tourism Organization Toronto Office's Director Dojoo Kim giving a toast and some opening remarks followed by a presentation on why Korea is the next destination for the MC&IT industry here in Canada. Ovation Korea followed by introducing unique properties in Korea and why Korea should be in every proposal to clients.
Director Kim of the Toronto Office explained that "Korea is THE next destination for the MC&IT industry in Canada as the destination is home to large convention facilities and has the infrastructure for any type of MC&IT event from small meetings to large conventions." Kim continued by explaining that Korea has shown that the destination is truly something to see and has something for everyone, from "islands to shopping to top class hotels and more".
The biggest hit of the evening was the food. For many attendees this was the first exposure to authentic Korea food and was a memorable night.
<![if !vml]><![if !vml]>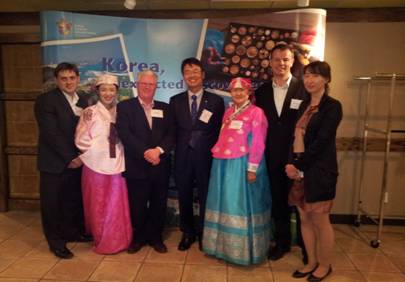 <![endif]><![endif]>
Left to Right Randy Snape KTO, Serin Lee KTO, Jan Zandboer Select Group Marketing Doojo Kim KTO, Yeonhwa Woo KTO, Richard Rheindorf Ovation Korea, Soohyun Park KTO
30-
For more information about Korea Tourism or travel to Korea, please contact the Korea Tourism Organization at
1-800-TOUR KOREA (868-7567) or 416-348-9056;
Fax: 416-348-9058; e-mail
randy@knto.ca; Website: www.visitkorea.or.kr