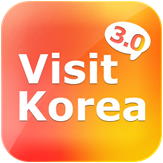 Korea Tourism APP Visit Korea v 3.0 now available.
Toronto, Canada. November 21st, 2013. – The "Visit Korea App 3.0" is the newest version of Korea Tourism App designed by the Korea Tourism Organization. The "Visit Korea App" was first launched in February 21st, 2011 to provide easy and convenient access to tourist information on Korea to travelers. Korea Tourism Organization was one of the first national tourism operators to provide countrywide travel information via smart phone service.
The Version 3.0 of the app includes a new look and an enhanced functions to make it easier for travelers to find the information they need. Now travelers to Korea will not only have access to more than 5,000 articles on major attractions, restaurants, lodging, shopping and transportation information but also will be featured with "find route" service, direction instructions and even SNS sharing functions. Distinctively, critical information while traveling in Korea, such as public transportation information, voice services for major Korean expressions, internet usage information, useful applications, and discount coupons will be included on the app.
The new features and refreshed look of the app also gives travelers increased convenience, flexibility and control. While previous versions mainly focused on the accessibility of Korea tourism information on the mobile format, version 3.0 was reorganized to focus on a more user-friendly interface for instance, tablets. It also considered travelers concern on heavy data and roaming charges. New bookmark function enables travelers to download and store their favorite tour information in advance, reducing the time consumed for data using.
The Visit Korea app can be downloaded for free from the App Store or from Google Play through the QR code or by searching for 'Visit Korea' in the Apple App Store and 'KTO' in the Google Android Market.


For more information about the Visit Korea App 3.0,
please contact the Korea Tourism Organization at
1-800-TOUR KOREA (868-7567) or 416-348-9056;
Fax: 416-348-9058; e-mail
randy@knto.ca; Website: www.visitkorea.ca