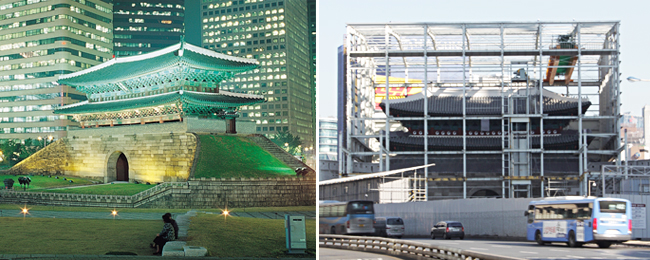 Korea's #1 National Treasure Set to Re-Open April
Toronto, Canada. February 11th, 2013. – On February the 10th, 2008, Sungnyemun gate, Korea's first national treasure, was destroyed in a fire. The disastrous fire was broadcast around the world with images of many Koreans, both old and young in tears over the loss of their most valued treasure.
After more than 5 years in rebuilding, Sungyemun gate is set to re-open this April. The construction barriers that have stood for so many years are now down and its beauty once again visible. The rebuilding of Namdaemun's gate was a lengthy process in which no attention to detail was left untouched. The gate was restored using traditional hand tools and methods in order to preserve tradition. In re-painting the gate, colours were considered especially important as artisans made a special effort to revive the colors and tones that were prevalent in the early days of Joseon, when the gate was first built.
A ceremony celebrating the completion of the gate's restoration will be in held in April once several auxiliary buildings including disaster prevention facilities are completed.


For more information about Korea Tourism or travel to Korea, please contact the Korea Tourism Organization at
1-800-TOUR KOREA (868-7567) or 416-348-9056;
Fax: 416-348-9058; e-mail: randy@knto.ca; Website: www.visitkorea.ca